Global Destination Reviews: Thailand's Best Spots
By day, it's a wild mix of glittering temples, ancient ruins, bustling cities, lush jungles and dazzling beaches. Once the sun sets, the streets completely come to life - gleaming with lively markets, rooftop bars and full moon parties. One thing is for sure, The Land of Smiles is one destination that you'll never get bored of. Welcome to Thailand!
Population: 68 million
Capital City: Bangkok
Best time to travel: When travelling to Thailand, remember there is a high season (dry) November-March and low season (wet) July-October.
Must-see's of the Mainland…
Jungles, Elephants and Temples in Chiang Mai
Chiang Mai is where lush mountains, rolling mist, and jungle treks meet temples galore. Seriously. That's no joke, there are about 300 temples in and around the city itself!
For nature lovers, just outside the city lies the Mae Sa Valley, an outdoor playground of rainforest reserves, waterfalls and natural hot springs. For history buffs, trek up the mountains from the city and explore the Karen hill tribes. For conservationists, you can head to the Elephant Nature Park, a well-known ethical sanctuary and rescue centre for elephants. Or lastly, for those adventurous souls, you can zipline through the forest, whitewater raft down Mae Taeng River or cliff jump at Grand Canyon Chiang Mai!
Amongst the seemingly never-ending suppll y of activities, if you fancy a spot of souvenir shopping and vibrant atmosphere, the Chaing Mai Night Bazaar is a must! Probably the biggest attraction of all is the Floating Lantern Festival though, with thousands of 'khom loi' released into the night sky each year.

Top tip: Between Chiang Mai and Bangkok are Thailand's two ancient capitals – Sukhothai and Ayutthaya. Many travellers rent bikes and tour the epic scenery of Northern Thailand by motorbike.

Its real name is the longest name of a city in the world... Krungthepmahanakhon Amonrattanakosin Mahintharayutthaya Mahadilokphop Noppharatratchathaniburirom Udomratchaniwetmahasathan Amonphimanawatansathit Sakkathattiyawitsanukamprasit, which loosely translates into "City of Angels'.
Hustle & Bustle in Bangkok
Skyscrapers, tuk tuks, floating markets, enchanting nightlife and a whole lot of hustle and bustle! Bangkok is the gateway to Southeast Asia, offering something for everyone. Once you've spent a crazy night out exploring Khao San Road (an infamous 1 km strip known for backpackers, complete with swanky bars & clubs and market stalls), make sure you venture out to see some Thai culture of the Old City.
The Grand Palace is THE attraction of Bangkok and you can knock off Wat Pho & Wat Arun all in one go with close proximity. It's the OG home of pop-up restaurants, so do as the locals do and join the cheap feast that will forever put your local Thai take-out to shame – guaranteed authenticity, cheap eats and good times! For shopping, head to the Chatuchak Weekend Market, the place to buy anything and everything with nearly 8,000 stalls.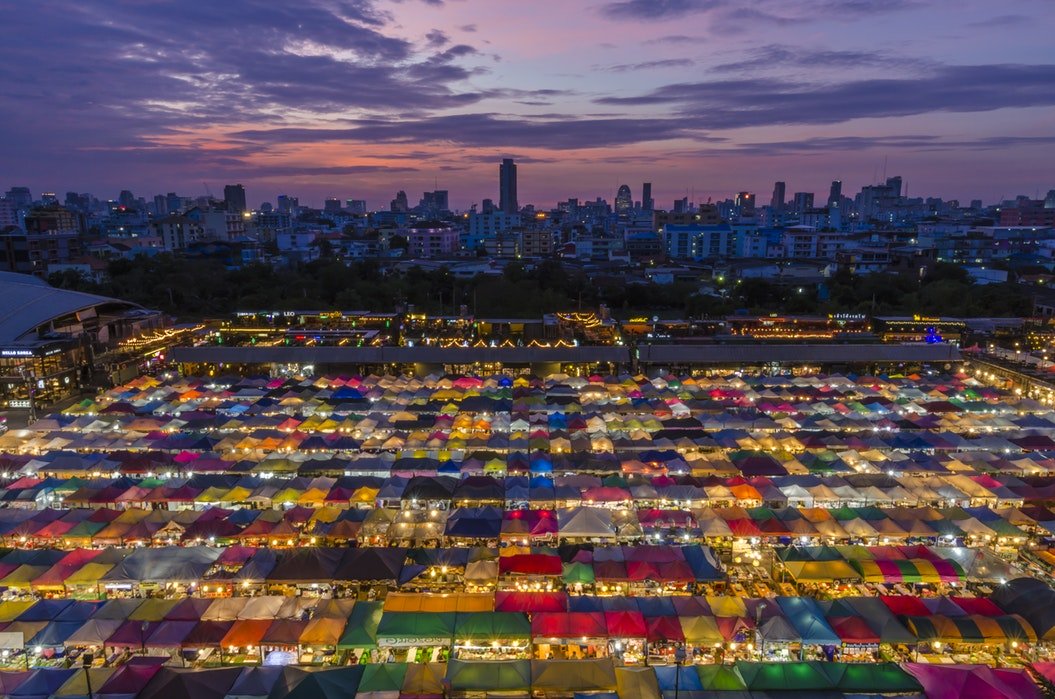 If you time your visit to the Phraya Nakhon Cave to precisely 10am, you may get to experience the magic of the sun pouring in over the hidden pavilion.
Seaside Escape in Hua Hin
Hua Hin is a delightful mix of city and sea. It's a little special to us here at Global because it's where Rescue Paws, a rescue and rehabilitation for street dogs, is located and it's where our travellers start their Teach in Thailand trips! Just a few hours south of Bangkok, this seaside town offers endless stretches of sand to escape the intensity of the city. Venture to the surrounding regions for spectacular peaks, caves, waterfalls and wildlife.
Visit the gilded Khao Kalok Temple and explore the Khao Sam Roi Yot National Park for something a little different - It's the first marine park in Thailand. Dotted with walking trails, mangrove forests and limestone islands inhabited by macaques. Plan a visit to the Phraya Nakhon Cave around mid-morning for mystical cave experience. Then throw in a visit to the lively night market for a dose of art and culture at Cicada Night Market!
You'll need a boat to get there…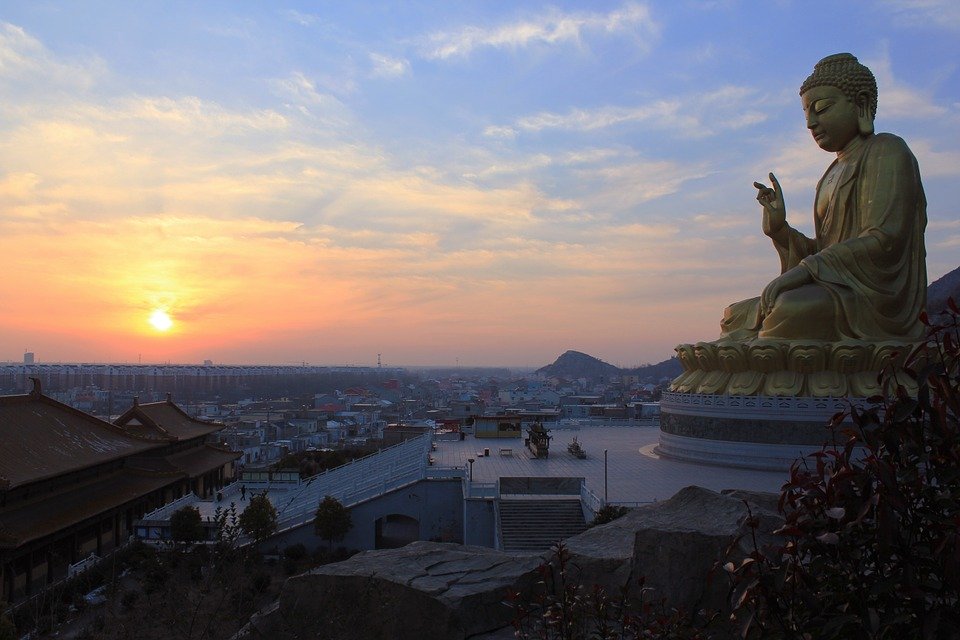 Relaxation Station in Phuket
Phuket is the largest island in Thailand and the place to relax and reset. Check out the notable size of Big Buddha and stunning panoramic views at the Karon View Point. Spend a night out on Bangla Road, the notorious heart of Phuket nightlife, full of lively bars and nightclubs. Toh Sae Hill a.k.a Monkey Hill likely speaks for itself. Home to 400 macaques, it's the highest hill in Phuket Town and offers another stunning view point over Phuket City. Wander around Old Phuket Town, a historically rich part of town with an abundance of temples.
Ko Phi Phi Don & Ko Phi Phi Le are the largest and most populated of the Phi Phi Islands.
Phi Phi Islands
Just a brisk ferry trip away from Phuket sits these picture-perfect islands to truly make your ultimate tropical getaway. By day, you can sun, swim and explore the epic thousand-year-old rock formations and tropical turquoise waters. Snorkel Maya Bay (famous for Leo DiCaprio's film, The Beach) and hang out with monkeys on Monkey Beach for the ultimate Phi Phi experience. Then, the nightlife heats up and fire shows and Thai boxing matches happen on the regular at the surrounding beach bars. More often than not, they turn into massive beach parties!
It's not all non-stop parties, there are also some totally out-of-this-world beaches on the Island too! 
Nightlife on Phangan Island
Slap on some fluorescent body paint and grab your glow sticks. Ko Phangan is renowned for its monthly Full Moon Parties tied to the lunar calendar and giving 30,000 other party animals a reason to flock to the beach of Haad Rin for night-long festivities. Beachside bars pump 24/7 music, plus there's table dancing, fire eating, juggling, midnight swims, plenty of booze and backpackers galore. Everyone gets in the spirit!
Feel like buying a ticket yet? You can combine all the fun with a truly meaningful teach or volunteer experience to make it a trip of a lifetime! Want to know more? It's a simple click below and you could be on your way to this paradise!