15 Food Markets We'd Get on a Plane For
There are countless types of travellers out there. There are the history buffs, the outdoor adventure junkies and even the leisure seekers.
Then there's the foodie traveller, those who wander to the farthest places on earth in the name of a good feed.
Now, you don't have to be a dedicated foodie to appreciate a great food market. Sauntering through the wild mix of smells, colours and ambience offer an inside glimpse into the local cultures and traditions like no other. You can use it as a tool for exploration, and it's usually an incredibly cheap way to eat if you're on a strict travel budget.
Here are a few of our all-time favourites from around the world. Warning: cravings are highly likely after looking at these mouthwatering markets...
📍Pike Place Market, Seattle, USA
Seattle's most popular tourist attraction has been in the open-air market biz since 1907. With over 10 million visitors each year (between 20,000 or 40,000 daily) it's also the 33rd most visited landmark in the entire world - all thanks to a clever/crazy marketing ploy of fishmongers throwing fish at customers.
Wander along the gooey Gum Wall, catch a caffeine hit at the first ever Starbucks or sample some of the 'world's best' Mac & Cheese in-house at Beecher's Handmade Cheese.
📍French Market, New Orleans, USA
Come for the souvenirs, stay for the food! Seriously, come hungry... there are some fantastic southern food stalls on offer. The French Market is the oldest and largest of its kind in all of the US and has been the heart and soul of New Orleans for over 200 years now, offering up unique trinkets made by some of New Orleans' best artisans.
Once you're all shopped out, grab some beignets from Café du Monde, a refreshing cocktail from Organic Banana and some of the best gumbo in New Orleans (apparently).
Top tip: There is a free walking tour that meets at the Ursuline Arch on Monday morning at 10am.
📍Chelsea Market, New York, USA
Housed in the former National Biscuit Company factory building - where the Oreo was created (that's a landmark on its own, right?), Chelsea Market is one of NYC's most notable foodie hot spots.
At only 15 years old, it's a youngin' compared to some of the other markets on here, but it's been a thriving urban public square/high-end food court ever since. Hit up the Lobster Place for all your crustacean cravings or Los Tacos No.1 for some epic authentic Mexican. You're welcome!
📍St. Lawrence Market, Toronto, Canada
Grab your loonies and your toonies; we're headed to Toronto's old town. Named the BEST food market in the world by National Geographic, this food emporium has been running since 1803. On Saturdays, the North Market overflows with more than 120 merchants serving up everything from the freshest seafood to coffee, as well as cooking classes and guided tours.
Hit up the Carousel Bakery, for a taste of their world famous peameal bacon sandwich!
📍Granville Island Market, Vancouver, Canada
Granville Island began its transformation from industrial wasteland to Vancouver's favourite culinary destination in the 1970s. Bursting with colour, activity and aromas, the Public Market (along with the rest of the island) now draws in over 10 million visitors annually.
One step inside and you'll see produce piled high, locally grown and seasonal - half the fun is seeing what's new at that time of the year! Grab all your picnic supplies at Oyama Sausage Company and some poutine for the road, obviously. You can also stop in at Canada's first microbrewery, Granville Island Brewing!
📍La Merced, Mexico City, Mexico
The perfect place for travellers looking for an off the beaten track experience. Make sure you bring your appetite to La Merced, Mexico's largest and best array of street food! In fact, it's gotten so big they've had to split it into seven different zones, each offering something completely different.
There is a whole section dedicated to cacti, another that stocks hundreds of chilli varieties and then there's an entire building dedicated to fruits and vegetables. Stop by the dozens of packed food stalls along the main drag and pick up some fresh tacos (campechanos - famously topped with french fries).
📍Spice Bazaar, Istanbul, Turkey
The structures it sits within date back to 1664, when it was dubbed the Egyptian Bazaar and the biggest spice trade in the medieval world. These days, although there are thousands of stalls filled with vibrant, colourful mounds of every exotic spice you can imagine - only a small portion of the entire market is actually spices.
Then there's baklava, fruits, herbs, nuts, soaps and all the most unusual souvenirs you couldn't find anywhere else in the world. Then there's every flavour of Turkish Delight known to man. Pistachio anyone? How about Rosewater? It all looks amazing, smells fantastic and is begging to be snapped for the 'gram.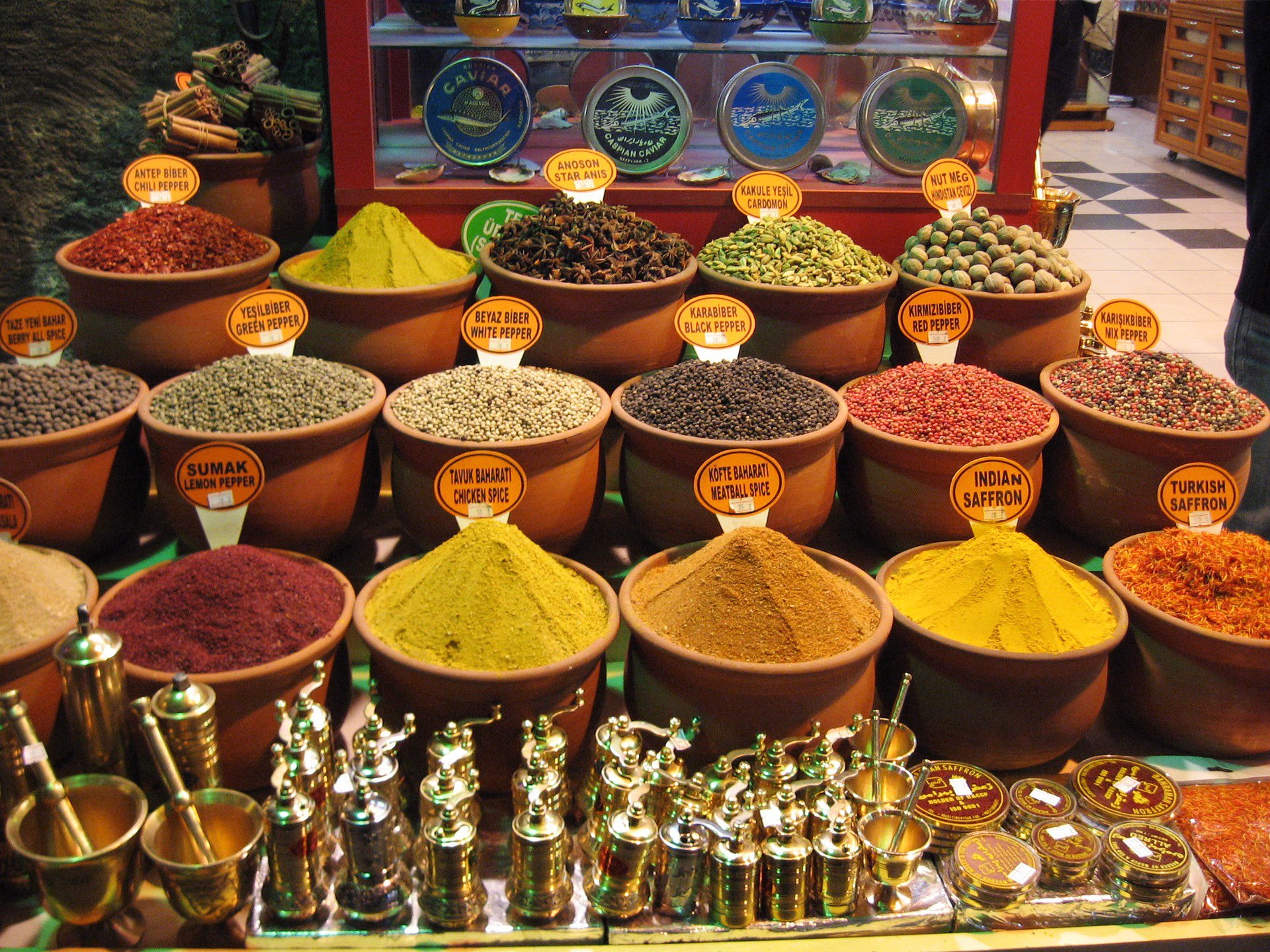 📍La Boqueria, Barcelona, Spain
A market as colourful and vibrant as the city it sits in! Rumoured to have originated as a pig market back in the 13th century, today it's home to over 250 vendors, with many coining it the best outdoor market in the world.
It sits right off the city's famous strip 'La Rambla', so roaming through the tiny gourmet stands for your pick of fresh seafood and Mediterranean specialities for lunch is a must. Or you can settle in at one of the many tapas bars and throwback as much Vino Blanco as you please.
📍De Foodhallen, Amsterdam, the Netherlands
Get a taste of Amsterdam's very first indoor food market, Foodhallen. Located in a historic renovated tram depot at the western end of the city.
Packed with delectable food options, De Hallen is home to countless eateries of all sorts and styles, with ready-to-eat street food style foodies from all over the world. As well as a movie theatre (Filmhallen), hotels, design studios, a library and it wouldn't really be Amsterdam without a bicycle repair shop would it now?
📍Reffen, Copenhagen, Denmark
Copenhagen is no stranger to street food. Reffen (the reincarnation of the former Papirøen - "Paper Island") is a food market and urban area for start-ups located on Copenhagen's industrial Refshaleøen.
All vendors focus on offering organic and sustainable food and services, chosen based on their quality and commitment to reduce and reuse. Even the stalls are constructed from recycled materials! The meals on offer cover most of the world too with everything from Italian polenta, Hawaiian ice cream to African specialties.
📍 Le Marche Raspail, Paris, France
Paris "lourves" a good open-air food market, with over 70 sprawling the city. But even in the middle of winter, Marché Raspail remains the most vibrant market around town. Centrally located in the 6th Arrondissement stretching from rue du Cherche-Midi to rue de Rennes, it's known as the chicest experience on the left bank.
Open every Tuesday and Friday morning, all year long, but every Sunday morning it's particularly special, transforming into an organic market "Le Marché Bio". With an entirely different set of vendors who specialise in organic eats and some of the only food trucks in France.
📍 Borough Market, London, UK
The oldest food market in London also happens to be one of the world's finest. It dates back to at least the 12th century - can you imagine seeing the likes of William Shakespeare & Winston Churchill picking up their groceries throughout history?
It's wholesale most of the week, but Thursday-Saturday it draws in city slickers and tourists alike with its locally grown produce, cheeses, fresh bread & truffles as well as snacks and gourmet food. It's so popular it publishes its own magazine!
Top tip: Arrive bright and early on a Saturday morning to avoid enormous crowds, grab some goodies and take a picnic into the gardens of Southwark Cathedral, right next door.
📍Queen Victoria Market, Melbourne, Australia
Loved by Melbournians and tourists alike, it's spread out over two massive city blocks (or 17 acres) - making the Queen Victoria Market the biggest in the southern hemisphere.
With over 700 small businesses to sample from, be sure to take the Ultimate Foodie Tour. It will take you on a 2 hour guided walking tour of the 140-year-old venue where you will taste the freshest produce, discover unique ingredients, learn tips and tricks for cooking, discover the history and meet the traders!
Top tip: In summer, the legendary Night Market opens every Wednesday night. Rows and rows of street food stalls, festival bars and more!
📍 Or Tor Kor Market, Bangkok, Thailand
No matter what you're craving, you will find it here. Or Tor Kor Market is as packed with perfectly packaged produce as its neighbour Chatuchak is with souvenirs. Whether you want to chow down then and there or take something delicious home for later, it's all here.
Grab every exotic fruit or vegetable you could ever imagine, pre-made curry paste galore to take home or some delicious Thai snacks and sweets in an abundance. Whether it's the more traditional kind of 'kanom krok' (grilled coconut pancakes), steamed palm sugar desserts or kanom bueng (coconut crepes). Yum!
📍Tsukiji Fish Market, Tokyo, Japan
Surprise, surprise. The sashimi capital of the world is home to the largest wholesale fish market on the globe. More than 400 types of seafood are on offer, with everything from seaweed to urchins to caviar and they move up to 2,000 tonnes through the precinct each day.
The pre-dawn tuna auction is definitely worth witnessing. Retailers from all over the city compete for the best catch - but spectators are restricted so it may mean a 5 am wake-up call. There's plenty of sushi stands to sample for breakfast and 495 different wasabi flavours to try afterwards.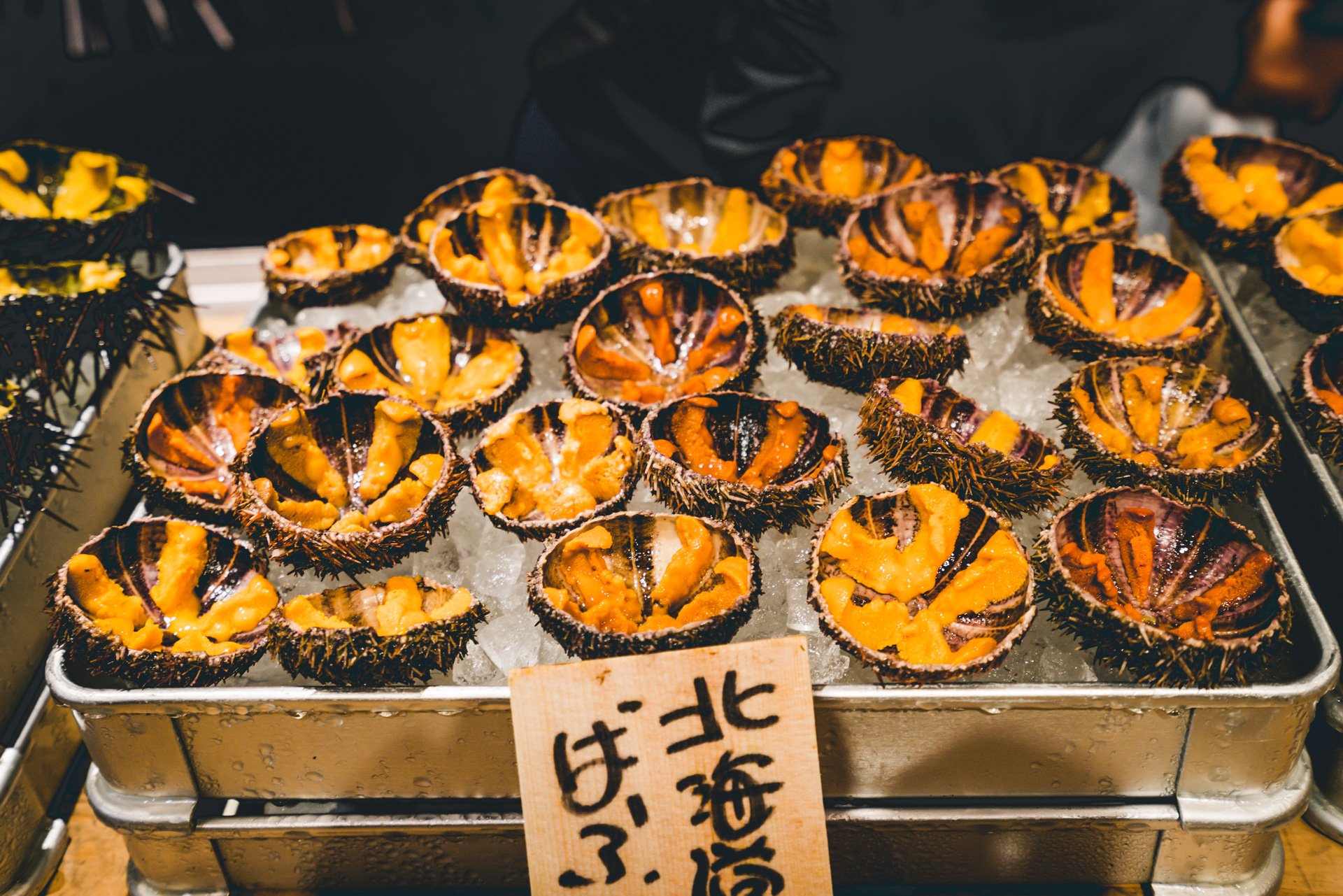 Well, that should get you started, but there are thousands more foodie adventures to tickle your taste buds all around the world! Did we miss your favourite? Let us know in the comments below!
Tummy rumbling? Get the chance to put your two favourites together and eat your way around the globe with a simple click below.