The Lucky 20,000th Global Traveller!
These days travel isn't just a one week holiday that you saved all year for. People are making a lifestyle out of it. Packing their bags for the big smoke of London or the snow capped mountains of Canada, there are footprints being made all over the world and we could not be prouder of the tens of thousands of travellers that we have assisted so far in turning their travel dreams into reality!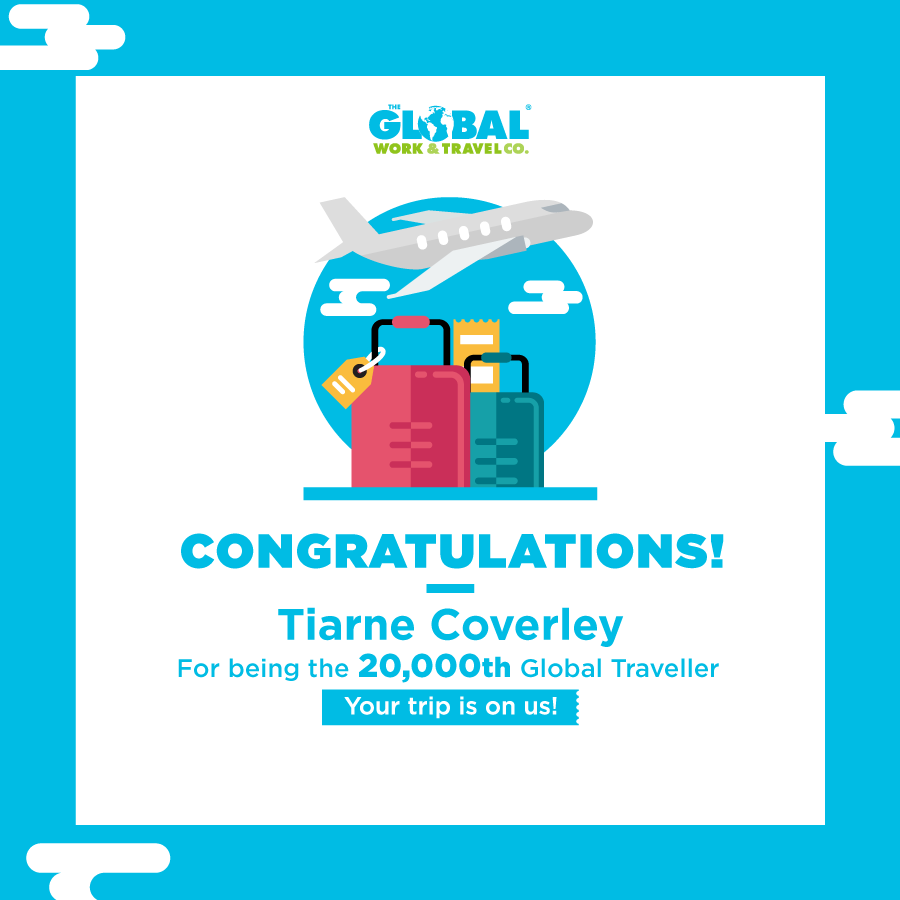 It has been a big year already for The Global Work & Travel Co. having just gone past our 20,000th customer we are more determined than ever to assist thousands more in reaching their dream destinations. From our caring volunteers in Thailand helping rescue street dogs to our daredevil snowboarders hitting the black runs of The Rockies it is only going to get better from here with even more life changing experiences to be added to our list and even more travellers ready to set off on the adventure of a lifetime.
Of course it's not all about us! Our Global Travellers have been crushing numbers worldwide. This year alone our Global Volunteers made up 75% of the Costa Rican volunteer project in Central America and all went above and beyond what was expected of them. Even upon their return home we have volunteers calling up to see where they can volunteer next! The same story follows our Working Holiday travellers with over 400 set to journey over to Canada towards the end of this year for the snow season. All will return home with hopefully some new snow skills and friends that they will keep for life. So many great tales have been shared this year and we are gearing up to hear even more!
So with all of this excitement in the air we could not help but celebrate! This week we decided to surprise our 20,000th customer with a Global trip on us!
Here's an extremely huge congratulations to Tiarne Coverley on being the lucky number 20,000 and a huge thank you to all of our Global Team members, Global Travellers and to all our future travellers to come! We look forward to meeting you, making your travels easy and turning your dreams into reality!
Explore the amazing opportunities available, and see the world in a meaningful way!