5 Reasons You Need to Volunteer in Costa Rica!
We know how you're feeling. Anything Costa Rica related, and we would have wanted to know more too. 
Any mention of this incredibly festive and adventurous destination and we're already thinking about how we're going to get our boss convinced to give us the time off so we can go, like, right now. Here are some good points to start with
1. Sea Turtles are mystical creatures of the deep & they need our help
Turtles are ancient beings that have been around for millions of years. They have seen it all, and regardless of the changing environment over the centuries, they've stayed true to there pleasant nature, cruising the ocean with 'wisdom of the deep' in their eyes.

The world is a better place with beautiful animals like this, so, when you find out that they are decreasing in numbers and are in serious threat of becoming extinct it is time to use your human powers to help!

The best part is that assisting with turtle conservation has a substantial impact. Last year alone our dedicated Global Volunteers completed 6,600 volunteer hours which reflected massively when they were lucky enough to witness over 2,300 turtles making their way to shore (also called an Arribada) to make the next generation of beautiful sea turtles.
2. You can be a superhero
The smaller communities of Costa Rica have a rep of being super friendly and welcoming no matter what situation the country is in. Sometimes they go through pretty hard times, which is where you can step in and keep those smiles on their faces.

Your mission - to become part of the community and meet with some of the brightest and bubbliest children that currently call an orphanage, home. The impact that your enthusiasm, care and companionship can provide will give them the spirit to reach their goals and have a brighter future.

So far, Global Travellers have thrown in over a whopping 900 hours assisting the community of San Ramon teaching English to school children and even helping teachers with better ways to teach these lifelong skills that help kids get a better education to go on and create a career. Now that is what superheroes are made of!
3. It is an animal lovers paradise!

Want to know the best part about jetting off to Costa Rica? Those dreams of becoming best friends with a sloth just came true. Those lovely, slow-moving wonders are locals in Costa Rica, and they are just as cute as you could have ever imagined.
On land, you also have the likes of spider monkeys, macaws, toucans, jaguars, margays, pitvipers, anteaters and there are plenty more in the ocean! Sea turtles, of course, are frequent locals along with dolphins, whales, spotted eagle rays and the hopefully occasional American Croc.
Not as standard but we're just making sure you are aware, so you know to keep an eye out and don't think it is a blow-up pool toy. That could have been awkies.
4. It is the perfect place to start learning a different language
Say goodbye to those awkward situations with bilingual friends who get chattering in another language only for you to sit there and think they are having a major secret convo about you. This is the perfect opportunity to learn a second language and of course in Costa Rica; they speak Spanish.
Being part of the local community will teach you quicker than you could have imagined, mostly because it is the best way to get around, order food or get to the bathroom quickly. There will undoubtedly be other volunteers from all walks of life and different areas of the world so you could even swindle them for a free language lesson from their home countries. That's plenty of opportunities to learn a sweet new skill that will allow you to be a pretty sociable person anywhere your travels lead you! 
Related: 5 Tips to Master the Art of Learning a New Language 
5. There is so much cool stuff to see in Costa Rica & around
Come on! It's Central America, and Costa Rica happens to be one of the seven amazing countries to explore! With the Caribbean Sea hanging on the east side and the Pacific Ocean running down the west, there is plenty of coast for those that are into surf, sun and play!
Seaside towns such as Puerto Viejo are perfect for the travellers that like a little seaside party with their day and Santa Teresa is a sandy spot for secluded relaxation and general good times. Get adventures checking out active volcanoes like Arenal that likes to spit a bit of lava out now and then (totally safe to visit!) or visit some of the neighbouring countries like Nicaragua, Panama or even a sneaky trip to South America to walk through the incredible Amazon Jungle!
Related: Chill or Thrill: 8 Reasons for Volunteering in Central America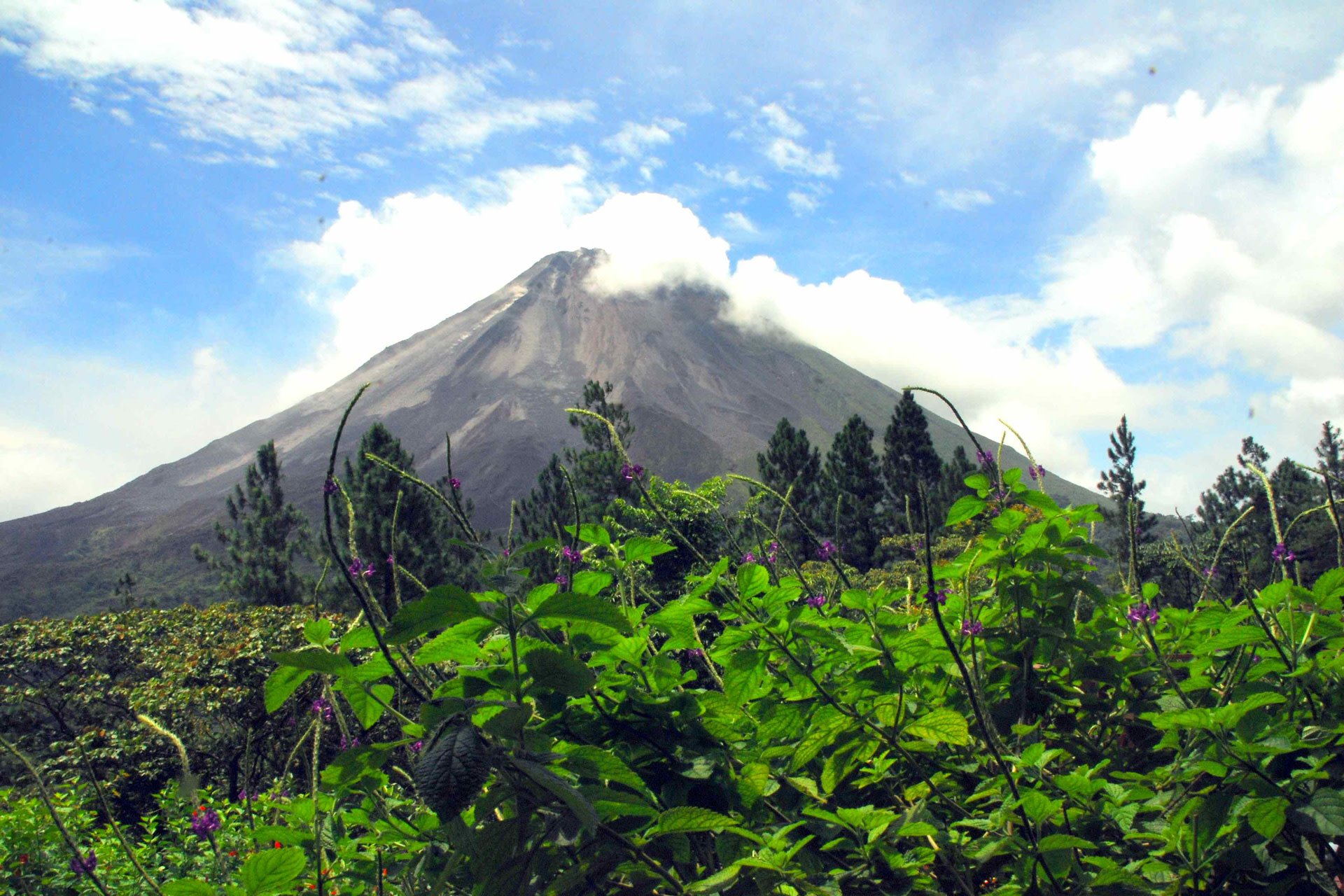 (Active volcano with lava oozing out and seen with your own eyes - check that one off the list!)

Hopefully the point has been made and you're in love with Costa Rica as much as we are! If you're looking at where to start, click below and we've got you sorted!