Global Destination Review: Tokyo, Japan
Moshi Moshi! Come hitch a ride with us as we guide you through one of the most vibrant and buzzing capitals in the Land of the Rising Sun.

We're talking robots, vending machines that sell cars, ancient shrines, a lot of friendly peace signs and of course an endless supply of sushi. Where else but, TOKYO, JAPAN! Hai!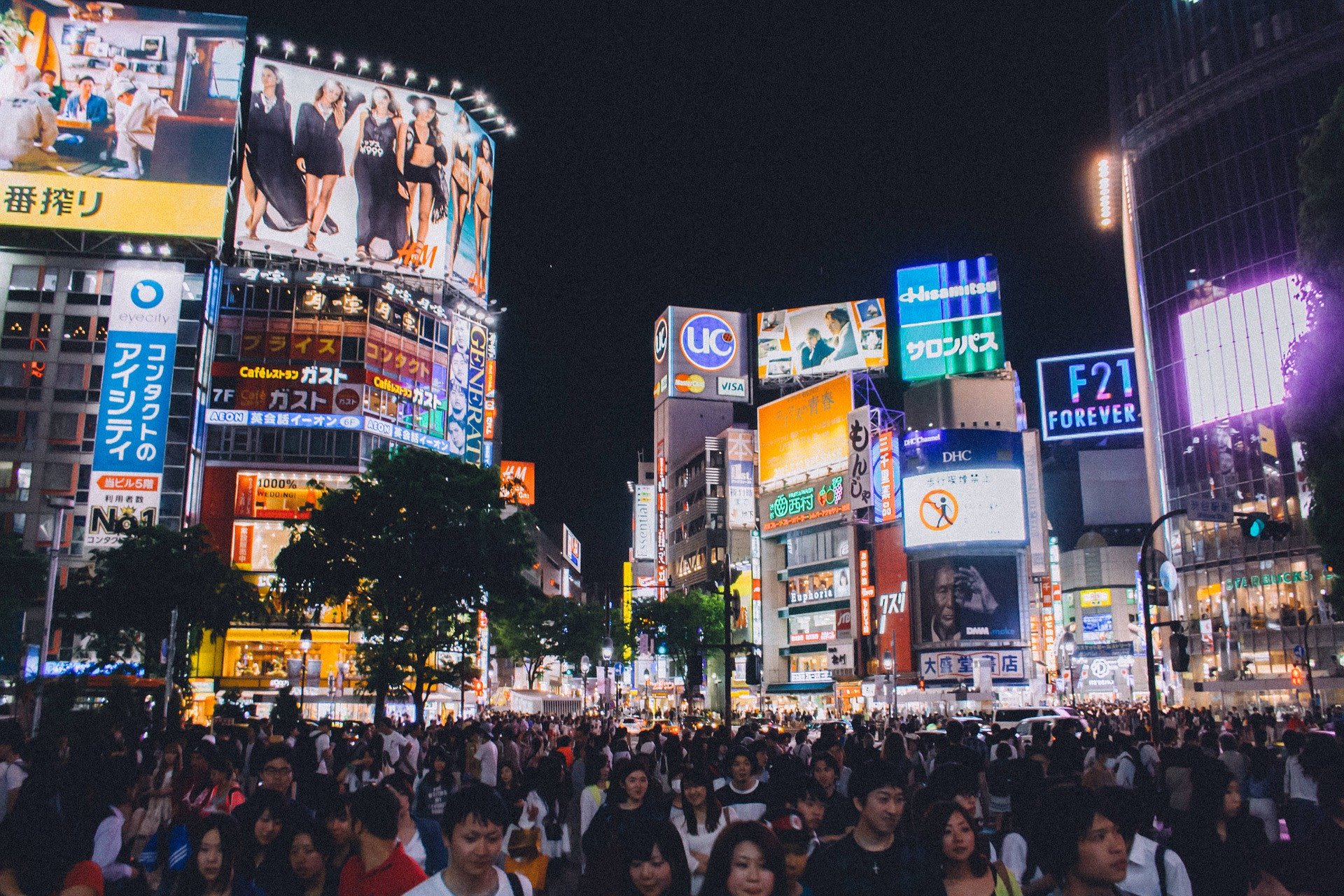 Tokyo is huge; we're talking 13.62 million people HUGE (double the population of NYC), over a mere space of 2,188 km². 
Regardless, the friendly Japanese locals that call this place home are the most welcoming and kind people you could ever be lucky enough to meet!

Tokyo will literally spin your mind with the amount of sparkle it packs into each district. With so many exciting things to see, even more amazing places to eat and exploration being as cheap as a $10 day-pass zipping around on the subway.

Here are our fave spots to head to and we're pretty sure after reading this and immediately booking a direct ticket to J-Pan you will agree!

The Imperial Palace (Royal Fam's Crib) 🏰
Using that $10 day-pass we recommended earlier, all you need to do is catch the train to Tokyo Station, exit and go for a nice stroll towards the big castle-looking building surrounded by moats. There are only two days a year that will actually allow you to get in with the royals which are January 2nd & December 23 when the Emperor gets lit for his birthday.
So, in between check out the incredibly beautiful Imperial Gardens and if you're lucky enough to arrive in summer be prepared to fall in love with cherry blossoms, they're beautiful, and they are everywhere! 
Dine with robots or cats or ninjas...you choose 🐈
Keeping things simply named, the Robot Restaurant in Shinjuku will let you in for around the $70 mark, which sounds steep but, totally worth it when it feels like you're in an actual real-life anime movie. 

Then you've got the perfect place for the cat fans of the world at Neko JaLaLa in Akihabara (Electronic Town) where you can get furrriendly with cats and a coffee in hand for $6 per 30 minutes.
Finally, if those two haven't been a big enough experience then head to Ninja Akasaka where you can stealthily go through a black doorway, the secret password provided by ninja, watch people throwing coconuts and slicing them with swords, ok, this place is just epic. Oh and we forgot about the food, also epic.

Look

 

at Mt Fuji from Tokyo Skytree 🗼
Of course, if you're in a big city, you want to see what it looks like from up above and the best spot to witness the hustle & bustle and enjoy your international tourist status is grabbing a "Fast Skytree Ticket" for the Tokyo Skytree available cheap with a flash of your passport.

This hot ticket for around 3,000 yen will get you around 350m high in the sky and give you views of the city and if it is a clear day throw a wave at Mt Fuji while you're at it. Although, we must recommend hitting it at night and getting mesmerised by the twinkling lights.
Get amongst it at Shibuya Crossing 🚦
You may have heard of the Shibuya Crossing and are thinking, "What's so special? I've hit thousands of crosswalks in my life, like, crosswalk level EXPERT over here".

Well, time to back up, because you haven't crossed anything like this patch of road before. We can guarantee it. How to explain it? It's sort of like a buffalo stampede/single ladies trying to catch the bouquet at a wedding/what we imagine our clothes feel like in the washing machine. It's just simply amazing chaos.

Lights go red, and it looks like a million ants everywhere. Just go see it, and you'll get it. Lock in at least an hour on this masterpiece, you will cross it about ten times minimum!



Charge it, point it, zoom it, press it...technologic ⌚
All we can say regarding the Akihabara district also known as "Electric Town" is damn their power bill must be high. If you are looking for anything remotely electrical, you will infinity per cent find it here. If not in the first seven storey store, maybe the next 40 in a row. 

This place is buzzing with every bit of new technology you could imagine, or if it is something old you're looking for, you can hunt down the alleyways, and you may just find someone who can help! If you're not a tech freak like most then we're sure you may be dazzled by the endless rows of smartphone covers, otherwise, consider it fitspo doing laps up and down those stairs!
SQUAD GOALS IN #HARAJUKU  

🎎
There's a reason Gwen Stefani tells the world that Harajuku girls have some wicked style, although she needed to tell the world that the Harajuku boys slay just as equally!
The Japanese street culture is on point in Harajuku, the elaborate outfits that you see will literally make you feel like you probably could have spent more than five minutes getting ready that morning.

Our best suggestion for Harajuku hangs is start the day off slowly at the Meiji Shrine, admire the century-old traditions then cross the bridgehead to Takeshita Dori and get mind blown by the 400 metres of crowd, elaborate clothing stores and the largest 100 Yen Shop where everything is around $1, better grab a trolley.

Rise and shine it's fish time 🐟
Even if you're not into eating creatures of the sea, it is always worth waking up at the crack of dawn and checking out how they roll at the Tsukiji Fish Market.
It's like Wall Street, lots of bartering but, instead of dollar bills ya'll; it's incredibly large tuna at the centre of attention.
It's a pretty popular tourist destination these days, so we recommend getting up early, and paying extra special attention to the signs, so you don't randomly walk into the wrong area and find yourself getting auctioned off accidentally. 
Related: 15 Food Markets We'd Get on a Plane For 
Sumo match 🎌
Just like all sports, there is a season for Sumo wrestling so you will need to make sure you fly over during January, May or September and witness a sumo tournament at Ryogoku Kokugikan, Tokyo's National Sumo Hall. 
Knowing there is a job out there where you get paid to eat an endless food supply sounds like our kind of gig, but, once you see the strength of your opponent, it makes sense why everyone hasn't become a sumo wrestler in their lives. It's a 2000-year-old perfected art and well worth the 20 or so bucks to get in that's for sure!

and lastly...
Buy a large supply of famous Japanese character souvenirs 👛
We're making it easy for you to spend your life savings on Pokémon & Hello Kitty merchandise and sending you straight to Tokyo Character Street which is just outside Tokyo Station Yaesu.
There's no holding back here; it's got everything from Snoopy, Dragon Ball Z and the above mentioned Pokémon and Hello Kitty range. Pretty much imagine your everyday household items splashed in your fave anime. Win! Plus, for the Poké fans out there who need more, there's always the Ikebukuro Pokémon Megastore to curb those cravings.
There's also some pretty great stuff in the close surrounds of Tokyo like a day trip to Mt Fuji, Disneyland, shredding in powdery snow but, we're going to save those adventures for another day.

Dust off your chopsticks and get on the Japan bandwagon or maybe add it to a list of other destinations you want to see first. Either way, just get out there and explore the world. The little blue button below is ready to take you away with one simple click.