Global Destination Reviews: Queenstown, New Zealand
Tucked away on the southern end of the planet sits one of the most naturally spectacular countries in the world. Some Lord of the Rings fans know this as Middle Earth, however, the rest of the world call it New Zealand. We're taking you to a patch of NZ that boasts endless picture-perfect scenery, extreme sports, humongous waterfalls, a few zillion sheep and some of the best mountains you ever did slide down. World, meet Queenstown!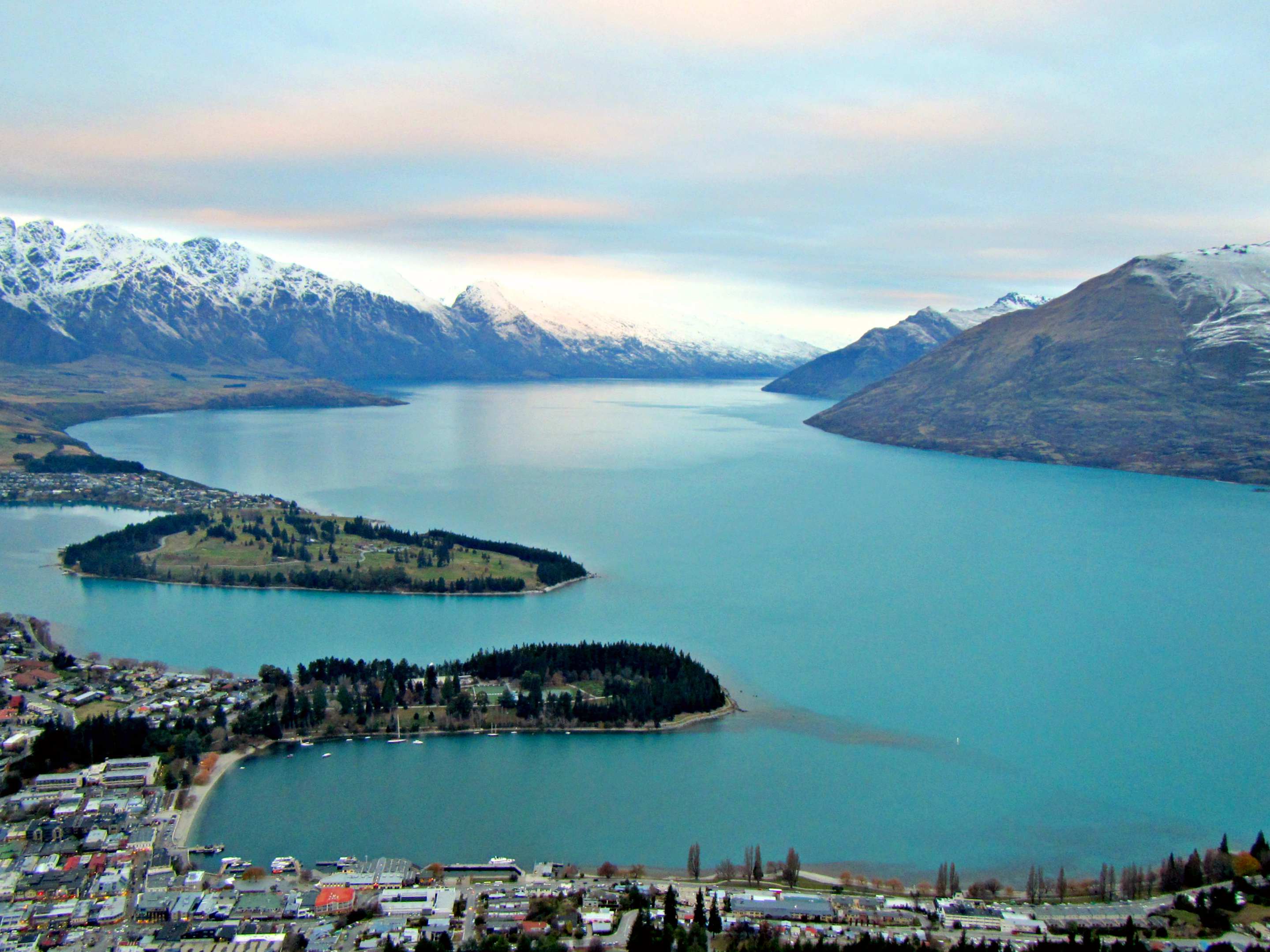 If you're in the mood for a true kiwi adventure and looking for a short trip away to spike the adrenaline or even let nature give you some TLC with a side of relaxation then the place to head is Queenstown in New Zealand's South Island. Why, you ask? Well, we're going to let Q-Town do the convincing for us...
EXTREME SPORTS  🚁
You can't turn a corner in Queenstown without seeing some kind of awesome extreme sport to complete. So, here's our favourites.

Heli-Skiing/Snowboarding  
There's plenty of companies for you to choose from when it comes to seeing the slopes from above. There's just no adrenaline rush quite like strapping yourself into your skis/snowboard jumping out of that chopper and just shredding from up above in perfectly untouched powder. Seriously, so cool. Obviously a little snow experience helps here, so get crackin' on the lessons!
Bungee Jumping 
Seeing as it's quite the mountainous region, there are a few bungee ropes hanging around for you to try out. If you're thinking about a few days in Queenstown, you may as well get the biggest rush and lock in the Nevis Bungy. At a glorious 134 metres high (440 feet), it claims the rights to highest bungee in all of the land. While you're there, why not have a play on the world's biggest swing too? This thing is pretty hectic, and also the best decision you will ever make.
White Water Rafting 
For the peeps that are down for some daredevil antics but just can't seem to picture themselves plummeting through the sky, no worries. There's plenty on the ground for you to experience or, should we say, water-level. Helmet up and grab your paddles, it's white water rafting time. 

THE MOUNTAINS 🏂
There are some goodies ready for you to climb, hike, stare at and slide down!

The Remarkables 
The views from the world famous Remarkables range look like a constant postcard stuck to your eyes. Even the 40 minute cruise up to the mountain for a full day of riding will totally blow your mind as you curve through snow covered mountains and look back with a birds eye view of Queenstown. Plenty of Aprés Ski to go round after you've hit all of the terrain parks and need a good brewskie to follow.
Coronet Peak
Another winter sensation located just 20 minutes out from Queenstown is Coronet Peak. Catch yourself headed up there on a bluebird day and you'll be delighted with powdery peaks and, surprisingly, not a tree in sight. It has the best learning area for any newbies to the winter sport game and a good hangout area for anyone hoping to just watch/eat and drink.
Cardrona
Of course the mountains aren't just there for snow to settle on. Although, while Cardrona is a fave for shredding, it is also the perfect spot in summer for hiking and midnight star gazing with a cold beverage in hand. It's pretty much perfection all year round!

THE TOWN💃
Food is always a good idea and there's  plenty to chew your way through when you're in Queenstown.

Eats  
Your first stop needs to be Madam Woo's for some seriously yum Chinese/Malaysian goodness, or since the water is near and seafood is fresh hit Fishbone for a plate full of ocean goodies and if you don't mind joining the hangry queue, Fergburger is the spot for one damn tasty burger. Of course, take a stop at the convenience store and load up on pineapple lumps (a kiwi fave). You can thank us later.
Drinks
You would probably need to move to Queenstown to experience every drink being served in town so make sure if you're there for a little while that you check out Threesixty at Crowne Plaza for floor to ceiling views from up high and delicious cocktails, Below Zero Ice Bar because, well, ice bars are always a cool novelty and of course Atlas Beer Cafe for a perfected selection of craft beers. All ideal for an end of day chill out.
Play
Feeling like getting your groove on? There's a few little spots for you to find your patch of dancefloor and get turnt. You will find Loco Cantina is filled with people until the early hours of the morning, Searle Lane is a hit for party goers and you can finish it off with a bit of themed fun at Cowboys. 


To put it in the easiest terms possible, there really is no other place quite like Queenstown. It offers so very much more than we could ever hope to tell you about, but, that's the best part. You're going to get to head off and discover it all for yourself! 
Let us help you get started.