Global Destination Reviews: The Best of Namibia
You're about to be pleasantly surprised by the diversity on offer in Namibia! Sure, it's got ancient sweeping deserts and big game for days, but this hidden gem of Africa offers the best of both worlds. Tucked away on the Atlantic coast, there are plenty of sandy shores begging you to throw a towel down and soak up the serenity!
Capital: Windhoek
Population: 2.48 million - the second least densely populated country in the world after Mongolia!
Best time to travel: Game viewing is best September & October, but there's sunshine 300 days of the year!
WINDHOEK
This slice of green paradise is a nice escape from the vast desert. Before you trek off into the wilderness, start here to brush up on your history and culture, plus get your shop on. Post Street Mall & Windhoek Street Market are great for touristy souvenirs. True bargain hunters should head an hour north to Okahandja for the best deals! For those who wish to avoid the hustle and bustle of Windhoek, just 20 km west of the city is The Daan Viljoen Game Park. You can even get your 'glamp' on and star gaze here for an African adventure to remember.
Etosha National Park  
Lions and leopards and rhino, oh my! I'm not going to list off the 114 species... but you get the picture - it's packed to the brim with game life! Etosha National Park is one of Africa's greatest reserves. Named after the surrounding salt pan, the reserve becomes especially popular in the dry season. Wildlife flocks to the waterholes and it makes for stunning photography as they frolic about. Get yourself a guided safari in the park or just grab some bino's and head to the waterhole yourself.
Life hangs in the balance among the dunes of the Skeleton Coast.
THE SKELETON COAST 
In some strange twist of nature, Namibia landed themselves a coastline teeming with life and activity. Once you're standing on the shores in the blinding fog, you'll soon understand the spooky name. Littered with whale bones and shipwrecks as far as the eye can see, over 1,000 vessels have met their end here. But it's also home to one of the largest seal populations in the world. 100,000 seals inhabit the area, along with oodles of game that head here in the dry season. Hop on a fly-in safari for the fastest (and most ballin') way to see it!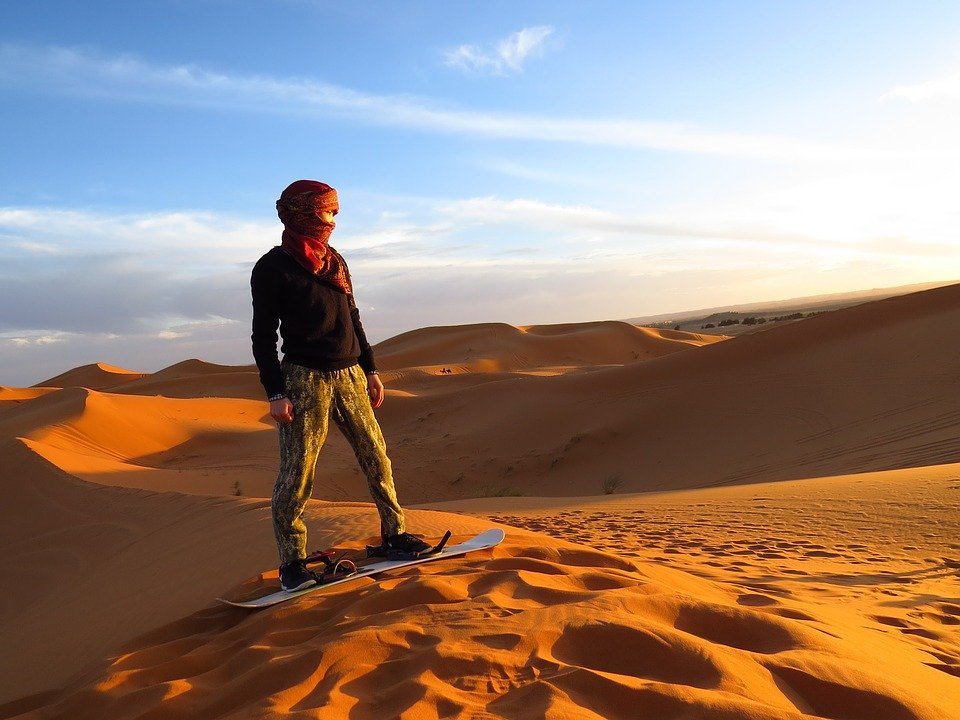 Swakopmund is the best spot for surfing AND sand boarding in Namibia. Yep, wrap your head around that one.

Swakopmund 
Time to ditch the khakis and throw on a wetsuit! Welcome to the action capital of Namibia. Swakopmund is sandwiched between two extremes. It offers the best of both - with a beach haven on one side and the Namib Desert on the other. You can experience the thrill of desert living by quad biking and sandboarding through the million year old sand dunes. Then, head off on a dolphin cruise or a surf to explore the Atlantic.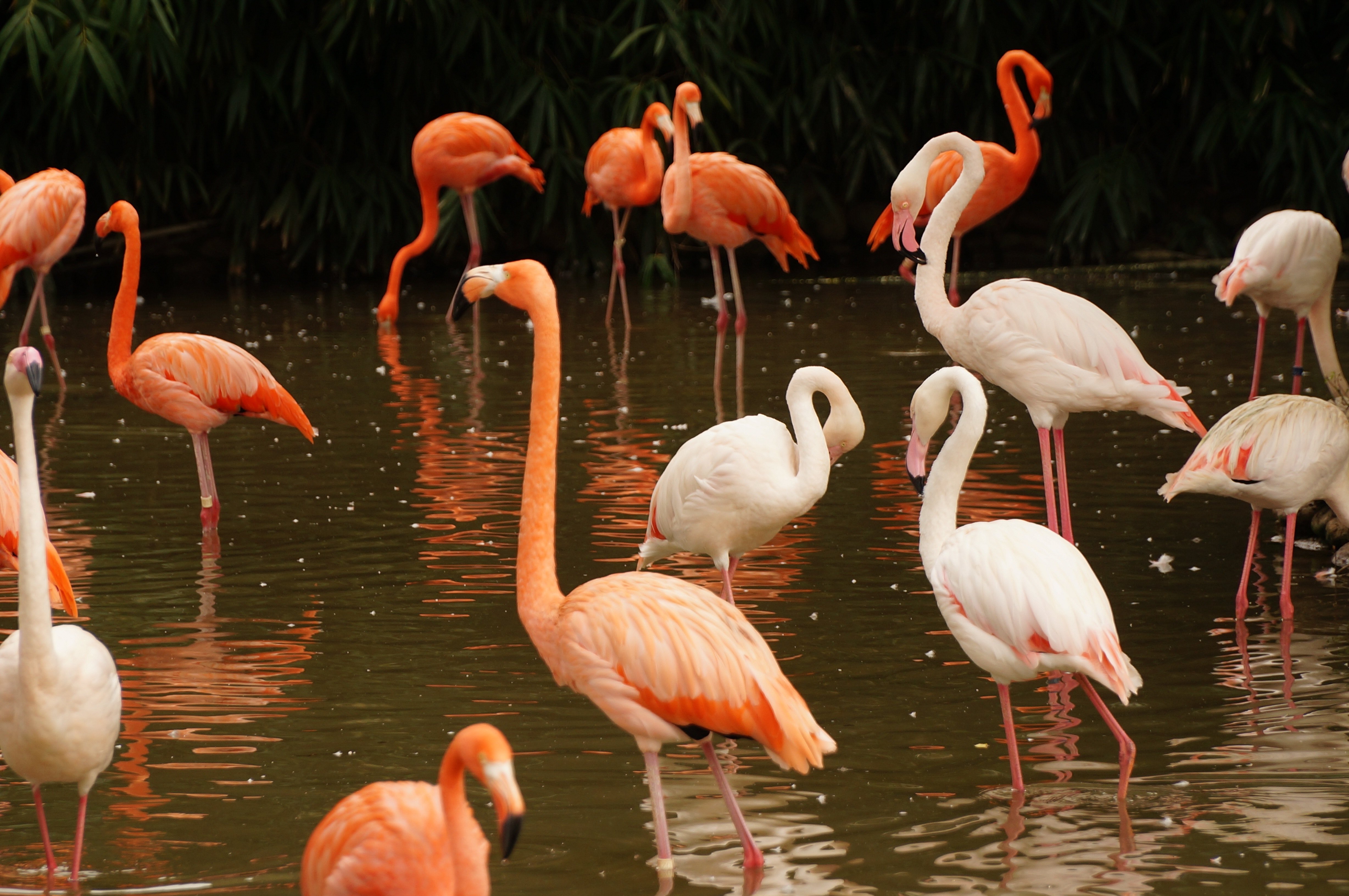 Leave your flamingo floaty at home and see one for real. 

Walvis Bay 
80% of Africa's flamingos are located in this cute coastal town. Camping at Walvis Bay is super popular, with loads of sites positioned around the city. Stop here for close contact with dolphins, seals, penguins, turtles, humpbacks and prolific birdlife. Early risers can head out on an early morning sea kayak in the lagoon for even closer encounters.
Sossusvlei 
Imagine nature 55 million years in the making. Endless sky high red dunes, gnarly dead tree valleys and one of Namibia's most iconic landscapes! These dunes are among the highest and the most photographed in the whole world. Your trip would be incomplete without a climb up 'Big Daddy' or Dune 7. Again, if you don't want to face the blistering heat, you can see the world's oldest desert from above by taking a hot air balloon flight over at dawn. Nothing comes close to seeing a sunrise over Sossusvlei.
Homes are empty, eerily quiet and packed with sand dunes.
KOLMANSKOP 
Further down the coast sits a town as eerie as they come, smack bang in the middle of The Namib - a coastal desert. This boom-to-bust town sprung to life during the times of Diamond Fever back in the 1950's. What's left now are the abandoned houses filled only with knee deep sand and a spine tingling feeling. So naturally, it's become a huge tourist attraction… Head here to do an epic ghost town tour!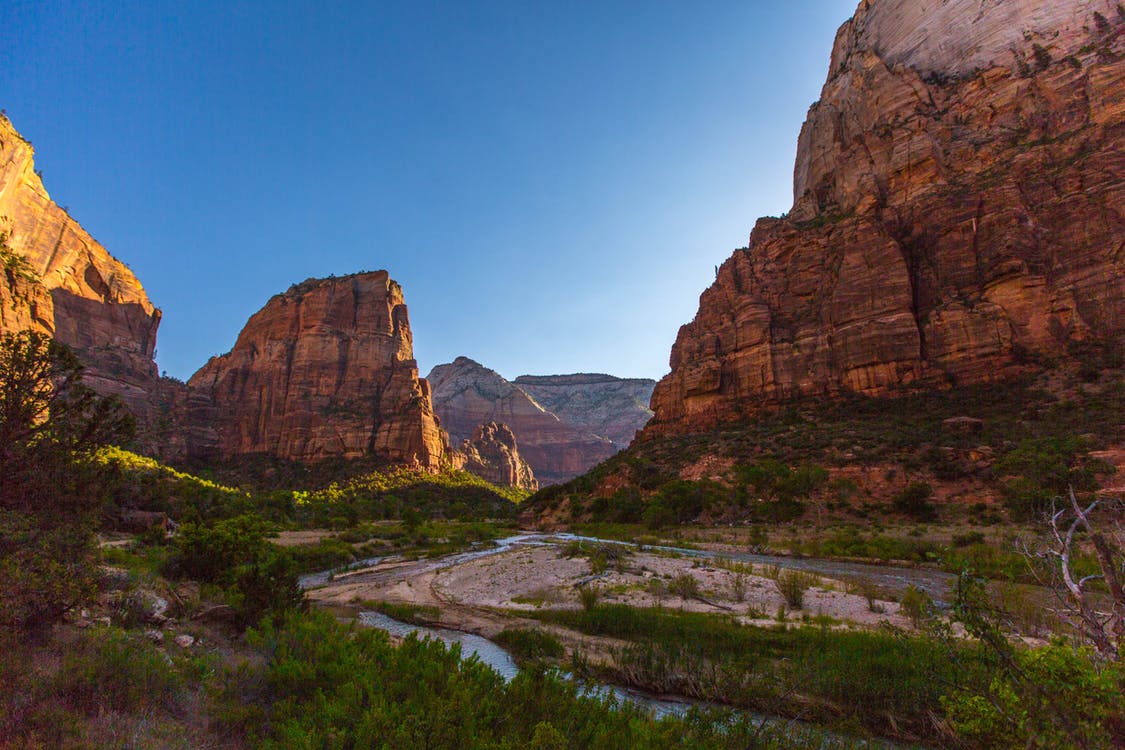 Also the second most visited tourist attraction in Namibia so you know it's gotta be good!

Fish River Canyon
It's time to talk about the other canyon. It's the second largest in the world (behind the Grand Canyon) at an impressive 161 km long. It offers one of the most popular hikes in Southern Africa but is known to be super tough - 40 degree temperatures and an 85 km hike. Luckily, there's Sulphur Springs to rest those sore muscles, plenty of animal life on show and many beautiful campsites en route!   
There you have it folks, every 100 k's offers you a completely different experience. Head to Namibia on your very own Lion King adventure!