18 Best Places to Travel This Year
It's time to get some new travel dreams. If you are after some inspiration, you're in luck. We've put together our top places to be and to see in 2018!
Namibia, Africa - A strange twist of nature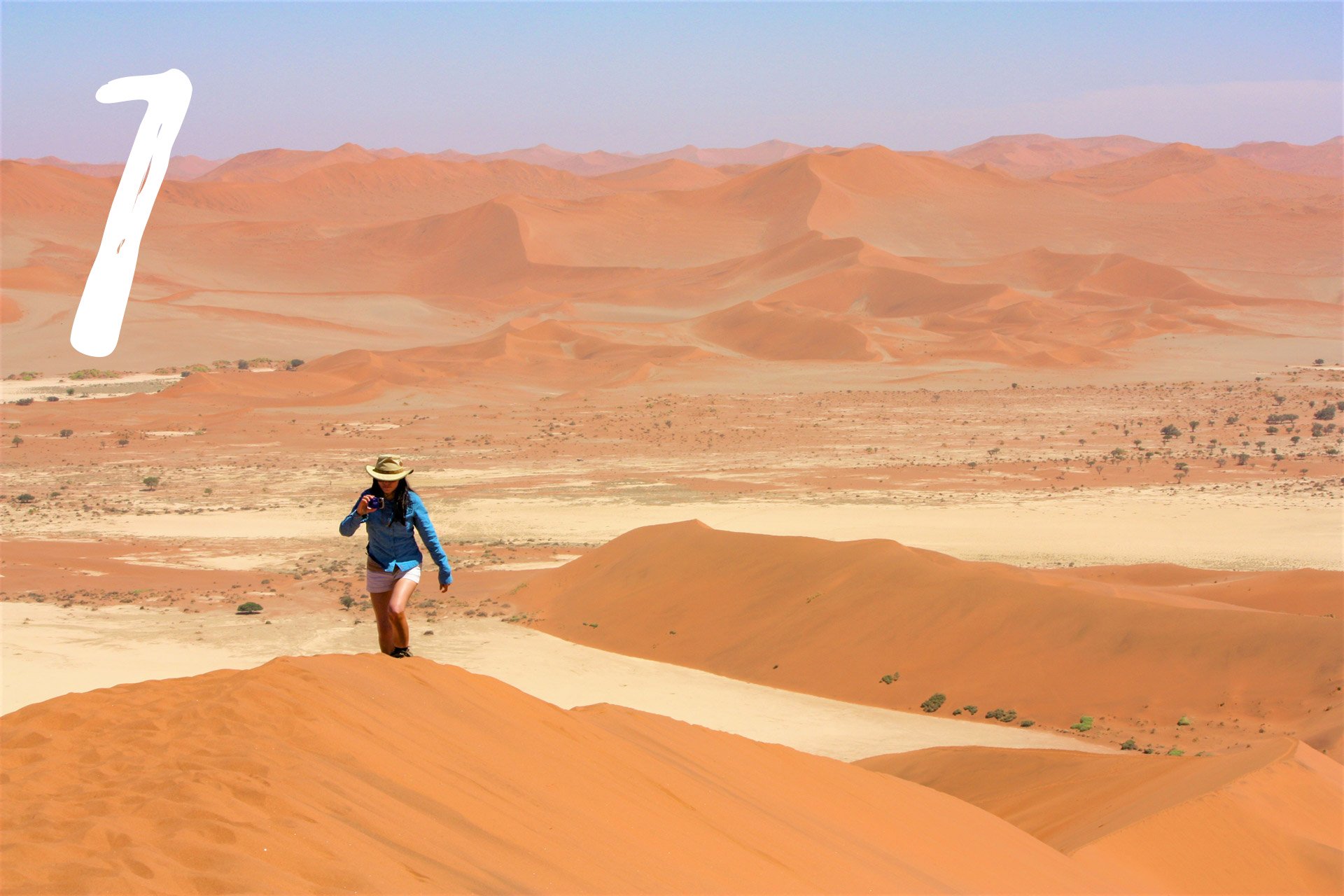 WHY 2018? Shipwreck Lodge, Skeleton Coast Park
The shores are littered with whale bones and shipwrecks as far as the eye can see. But there hasn't been much scope for visiting this spooky and beautiful slice of Africa (unless you had an extra $6,000 laying around the for fly-in safari) …until now!
The Shipwreck Lodge opens June 2018 and will be the first camp to be built inside the Central Concession Area. The lodges will even be shaped just like shipwrecks to fit in with the 1,000+ vessels that already line the beach.
FAST FACTS:
Population: 2.48 million
National dish: Outdoor cooking is the Namibian way of life! Traditional braaivleis (barbeque) and ispotjiekos, a spicy stew cooked in a cast iron three-legged pot over an open fire.
Best time to visit: Game viewing is best September & October, but there is 300 days of sunshine per year!
OTHER MUST DO'S OF NAMIBIA:
Start planning: Read more about Namibia on Global Roaming.
Gold Coast, Australia - Perfect mix of city and sea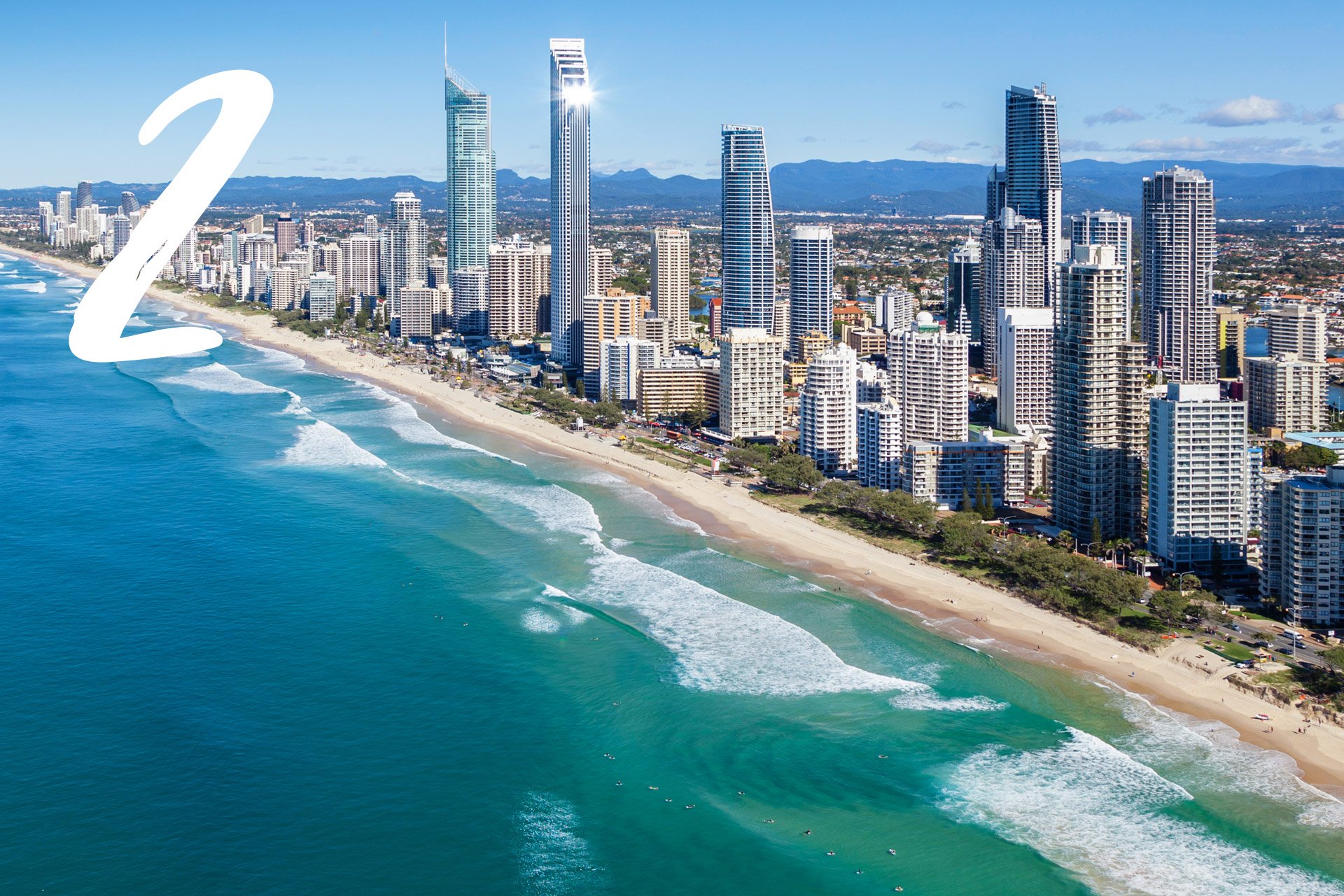 WHY 2018? 2018 Gold Coast Commonwealth Games
The Gold Coast is home to none other than Global HQ and we're always showing off what the glitter strip has to offer to all our travellers who arrive in Australia! In April, the Gold Coast hosted the 21st Commonwealth Games, (the first regional city EVER to host) where 6,600 athletes and team officials from 70 countries joined us to share the dream. In the aftermath, we scored Australia's first light rail network the G:link and $200 million in world-class sporting infrastructure. Plus, bragging rights, the Logies Awards will be held in the countries favourite holiday playground for the first time ever in July!
FAST FACTS:
Population: 600,000
National dish: Roast lamb rules as Australia's national dish. But on the Gold Coast, we'll take a BBQ by the beach any day!
Best time to visit: All year round! We've got an endless summer.
OTHER MUST DO'S OF THE GC:
Get your heart racing at the theme parks
Kick back on the beach or learn to surf in Burleigh
Head inland and explore Lamington National Park
Tick off as many trendy bars and nightclubs as you can in Surfers Paradise
Start planning: Read more about the Gold Coast on Global Roaming.
Chile, South America - Nature on a colossal scale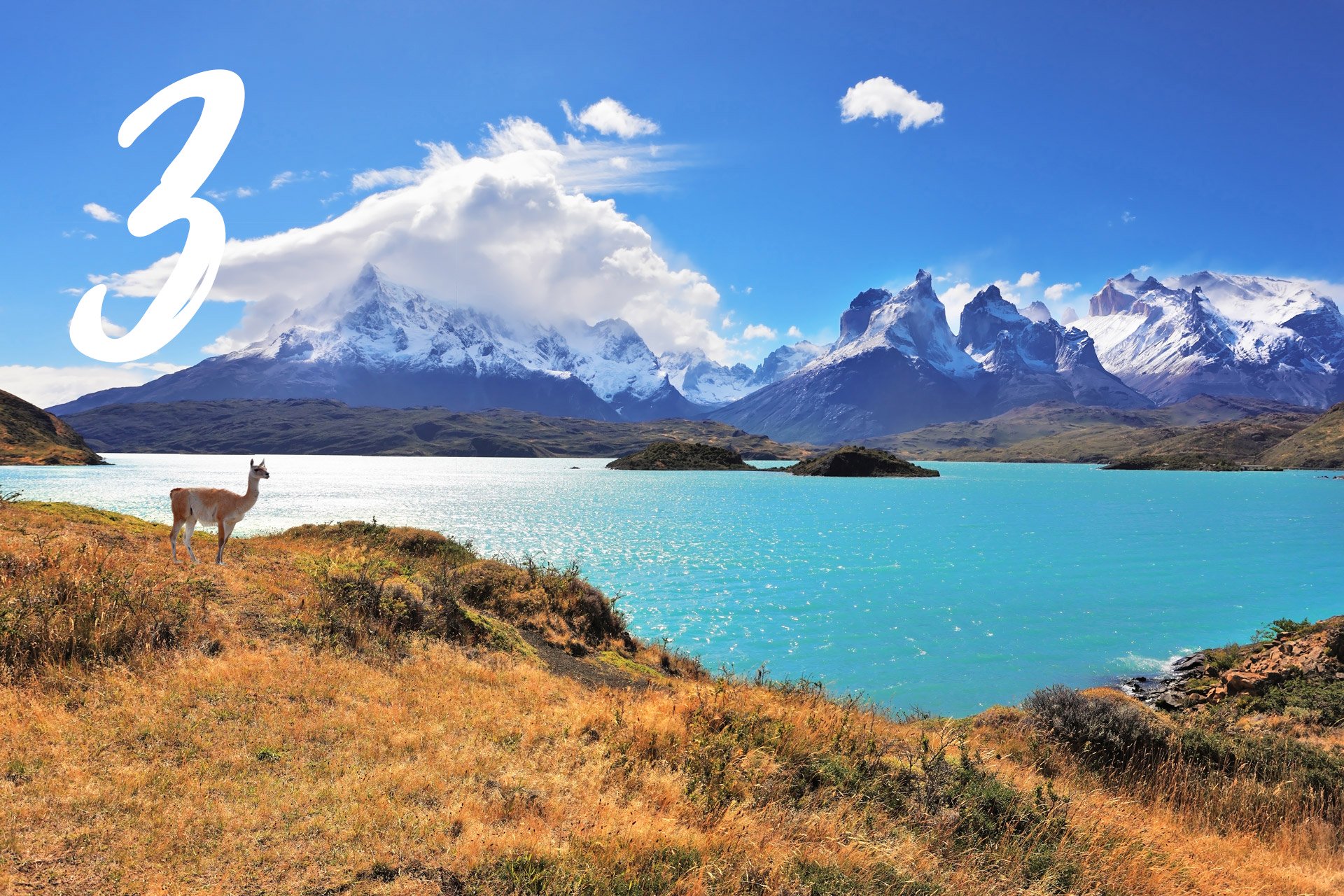 WHY 2018? The new 'Route of Parks'
Chile is filled with endless escapades and now they've made it even easier to explore! In addition to acquiring 10 million acres which will be preserved as five brand new and three extended national parks, they're constructing "The Route of Parks". 2018 is the year that this 1,500-mile stretch will finally string together the national parks and link up the country's most remote corners. Talk about a road trip!
FAST FACTS:
Population: 17.91 million
National dish: Pastel de choclo is a delicious layered pie, usually made in a deep dish or a clay paila with chopped beef at the bottom prepared "al pino".
Best time to visit: Due to Chile's HUGE scale and long shape - adventures can be had all year round!
OTHER MUST DO'S OF CHILE:
Stop off at the Atacama desert - the driest desert on Planet Earth
Ski the second highest peak in the world at Portillo
Check out the famed archaeological site of Easter Island
Volunteer on our Charismatic Chile Volunteer Trip!
Start planning: Read more about Chile on Global Roaming.
Peru, South America - Warning: requires a strong set of lungs and steady legs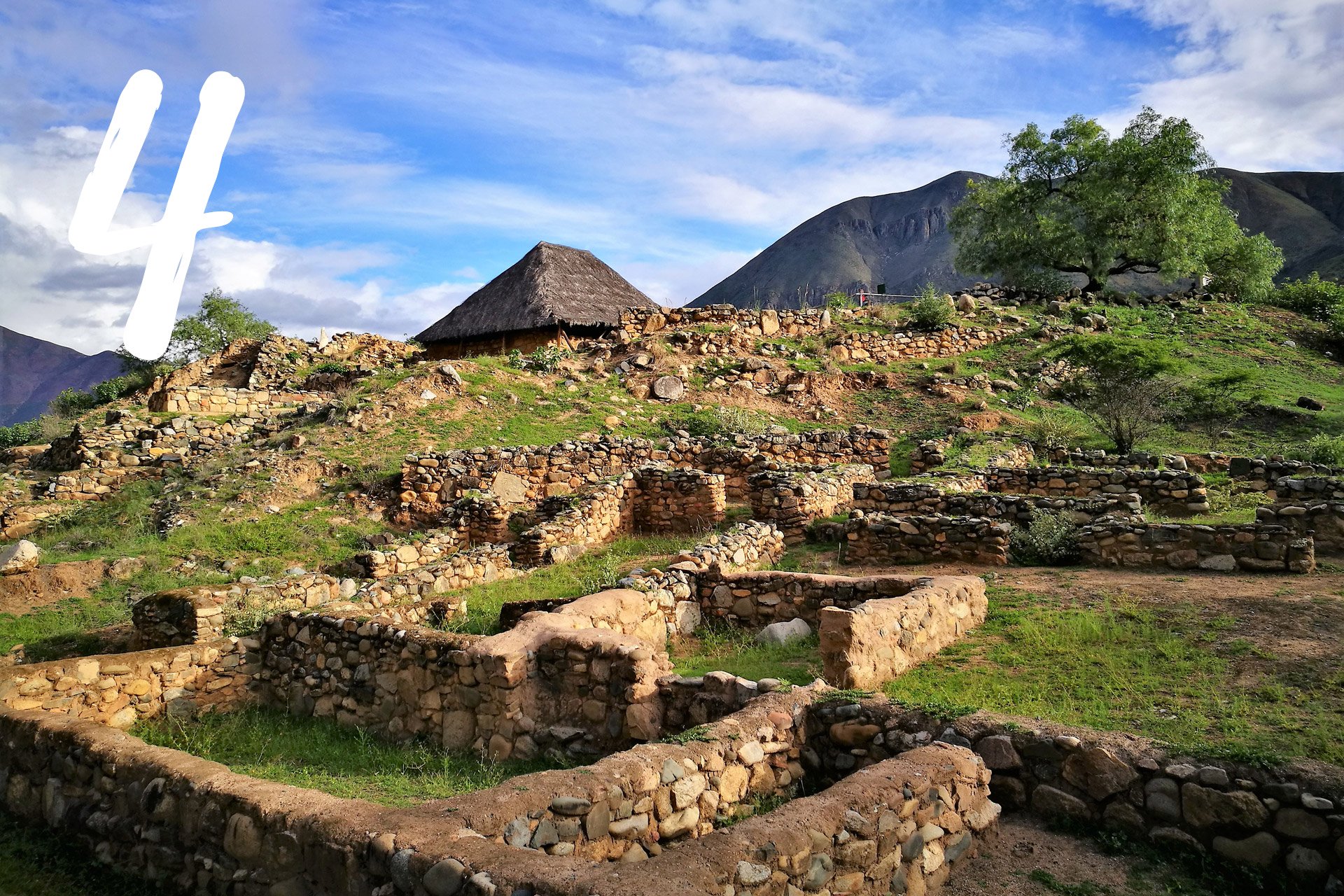 WHY 2018? Kuélap!
Due to increased tourist traffic at Machu Picchu, Peru is now urging visitors to head to the off-the-beaten region of Kuélap. This less known site is a stunning pre-Incan settlement referred to as 'the fortress in the clouds' and was built by the Cloud Warrior people of the northern Andes in the sixth century which actually predates Machu Picchu by several years!
The walled city sits 10,000 feet above sea level and the ruins have only just become more accessible with the recent opening of a cable car system that cuts travel time from the nearest Town, Nuevo Tingo, to just 20 minutes.
FAST FACTS:
Population: 31 million
National dish: Ceviche is typically made from fresh raw fish cured in citrus juices, such as lemon or lime, and spiced with ají or chilli peppers.
Best time to visit: The Peruvian winter runs from May to September and is the driest season, therefore the best time to travel. Especially if you are planning to visit the Cusco area or trek the trails!
OTHER MUST DO'S OF PERU:
Explore the amazing Amazon Rainforest for yourself!
Witness the Rainbow Mountains
Trek the Colca Canyon
Start planning: Read more about Peru on Global Roaming.
Monteverde, Costa Rica - famous for fun and biodiversity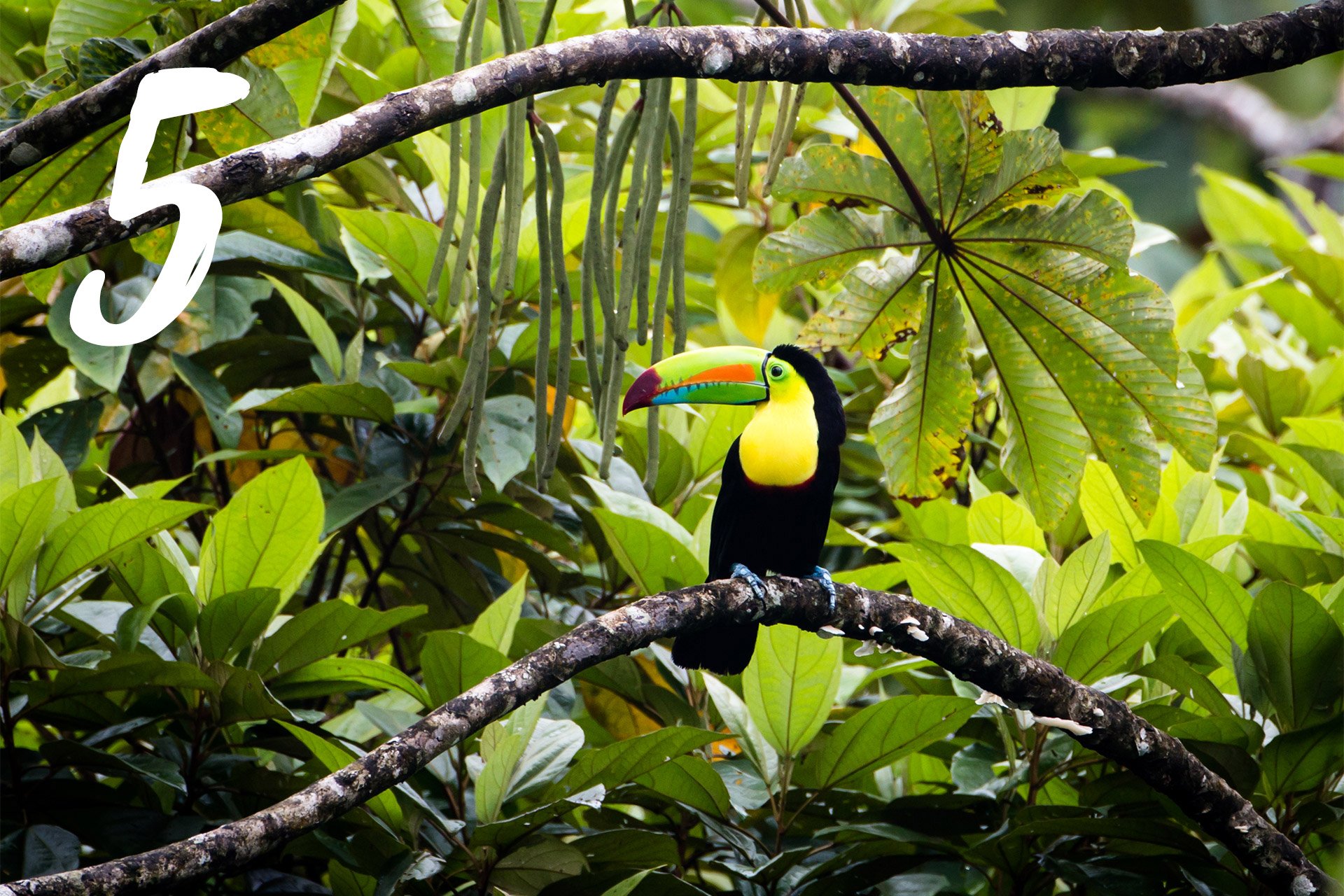 WHY 2018? Monteverde Cloud Forest
Nature enthusiasts looking to go off the grid should stop here, where 2.5% of the world's total biodiversity call home! Spanning an impressive six ecological zones (or 25,950 acres) and nestled high up in the mountains - it's famous for protecting an abundance of wildlife, monkeys and mist. The roads seem to be the most adrenaline fuelling of the experience with 90% of them remaining unpaved and requiring a 4x4… and possibly a pacemaker. Until now, they have upgraded the roads this year to make the journey a lot easier!
FAST FACTS:
Population: 5 million
National dish: Gallo pinto - has the literal meaning of "spotted rooster" and consists of rice and beans stir-fried together in a pan to create a speckled appearance. It is usually served for breakfast along with scrambled or fried eggs and sour cream or cheese.
Best time to visit: The best time to visit Costa Rica is from mid-December to April (the dry season). This season boasts plenty of sunshine making it an ideal time for exploring rainforests and lounging on beaches.
Other must do's of Costa Rica:
Volunteer with sloths, sea turtles or communities!
Watch lava spill from Arenal Volcano
Do a day tour of Tortuguero National Park
Relax in the hot springs of Río Chollín
Start planning: Read more about Costa Rica on Global Roaming.
Gangwon Province, South Korea - not just the land of kimchi and non stop kpop.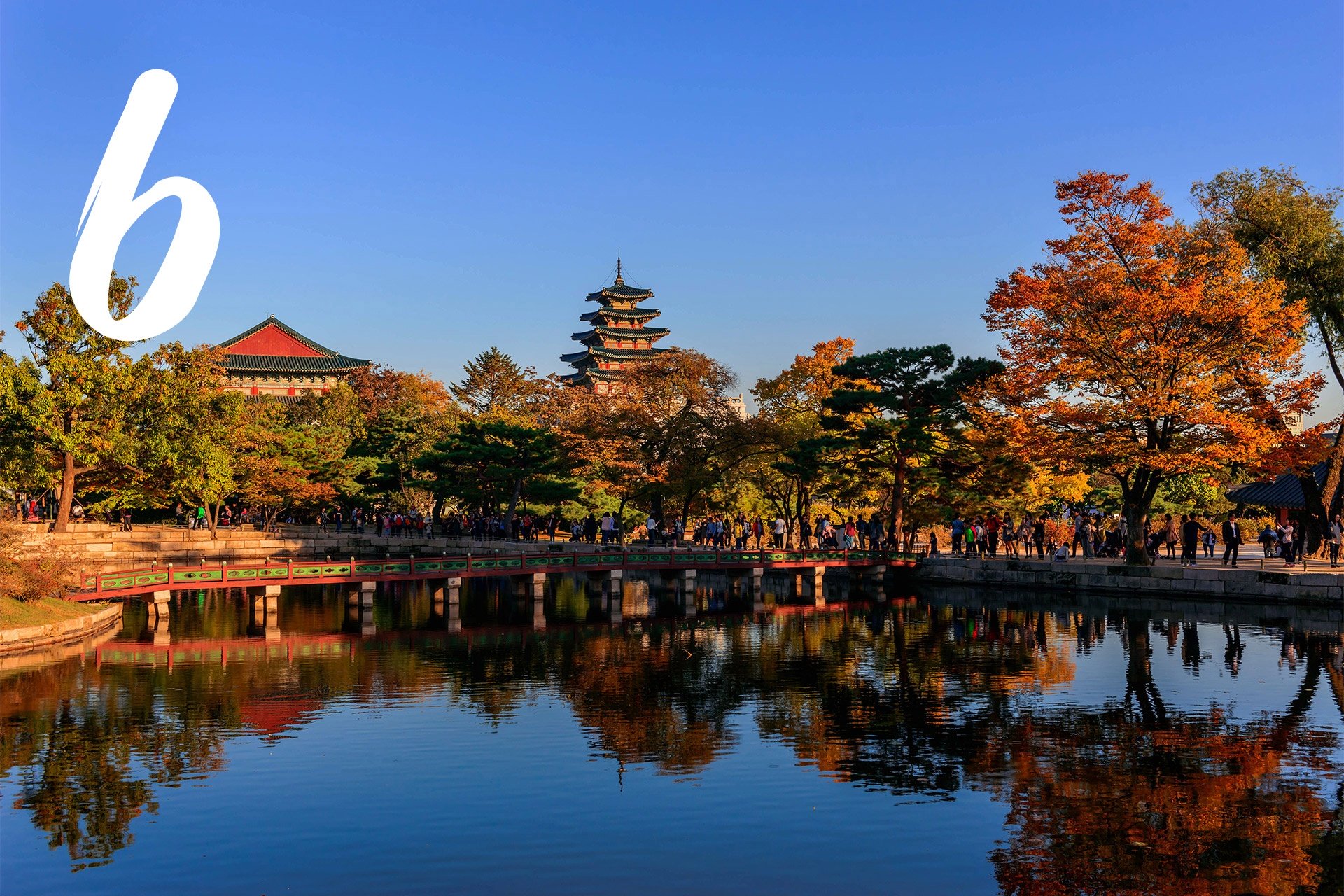 WHY 2018? Bullet Trains!
Those in the know are aware of the Winter Olympics which recently went down for the first time in PyeongChang. The Games have ignited much more than just a desire to watch the half-pipe comp! The government have poured $13 billion into the region and built a high whiz bullet train, new highways and tons of infrastructure to whisk people across the country between Incheon and Gangneung, cutting travel time from 6 hours to 2.5-hour on a high-speed adventure. Making a mountain retreat or a beach escape, with a side of après-culture easily accessible!
FAST FACTS:
Population: 51 million
National dish: Kimchi is a fermented vegetable dish usually made with napa cabbage, Korean radish, or sometimes cucumber, commonly fermented in a brine of ginger, garlic, scallions, and chili pepper.
Best time to visit: South Korea has four distinct seasons. The summer period runs from June to August sees hot and humid weather. Whereas winter, from December to February, is icy cold and dry. Autumn and spring are thought to be the best times to visit as they offer warm, sunny days. Take your pick!
Other must do's of South Korea:
Get Seoul searching and Teach English!
Visit the historical DMZ North Korean Border
Hitch a ride to Busan - the San Fran of SK!
You haven't lived until you've tried Korean BBQ
Start planning: Read more about South Korea on Global Roaming.
Uluru, Australia - The red heart of Australia
WHY 2018? Ayers Rock
This epic 600-million-year-old rock is not the only thing central Australia has going for it, we promise you! The red heart of Australia will now stand as a monument to admire, rather than to conquer, forbidding the climb as of 2019. Visitors need not worry that there will be nothing for them to visit with the climb closed because there is so much more to explore! Tons of fascinating cultural tours, workshops and free ranger-guided mala walks are on offer to discover the natural wonders of both Uluru and Kata Tjuta.
FAST FACTS:
Population: Approx. 300
National dish: Bush tucker, mate!
Best time to visit: Head here between May and September when the weather is cooler. At this time of year, the colours of the rock are more vibrant and you are more likely to see the hidden surprises of Uluru!
Other must do's of Uluru:
Walk the famous Kings Canyon and surrounding lush gorges and rock formations
Check out the spectacular Field of Light
See a Kata Tjuta Sunset for yourself
Learn the history and culture of the traditional land owners (the Anangu people) in any of the region's smaller cities - Darwin, Palmerston or Katherine.
Start planning: Read more about Australia on Global Roaming.
Rotorua, New Zealand - Celebrating what lies beneath the surface
WHY 2018? Mudtopia Festival
So everyone knows that NZ is not only the Southern Hemisphere's biggest winter destination, but it's one of the world's ultimate outdoor playgrounds. But why, oh, why Rotorua you may ask? Rotorua sits firmly on the Pacific Ring of Fire, so naturally, it's a melting pot of attractions! Mud bubbles, mountains explode, geysers spout and sulphurous gas stink it all up. In order to celebrate the city's geothermal blessings, the very first annual Mudtopia Festival was recently launched complete with mud games and massages!
FAST FACTS:
Population: 58,800
National dish: Pavlova is the national dessert!
Best time to visit: Mudtopia Festival kicks off at the start of December.
Other must do's of the North Island:
Head to wine heaven over on Waiheke Island
Magical Glowworm Waitomo Caves
Matamata is a must-see for those searching for Middle Earth!
Hike the epic Tongariro Crossing
Start planning: Read more about NZ's epic South Island on Global Roaming with Part II.
Beijing, China - Discover ancient wonders reinvented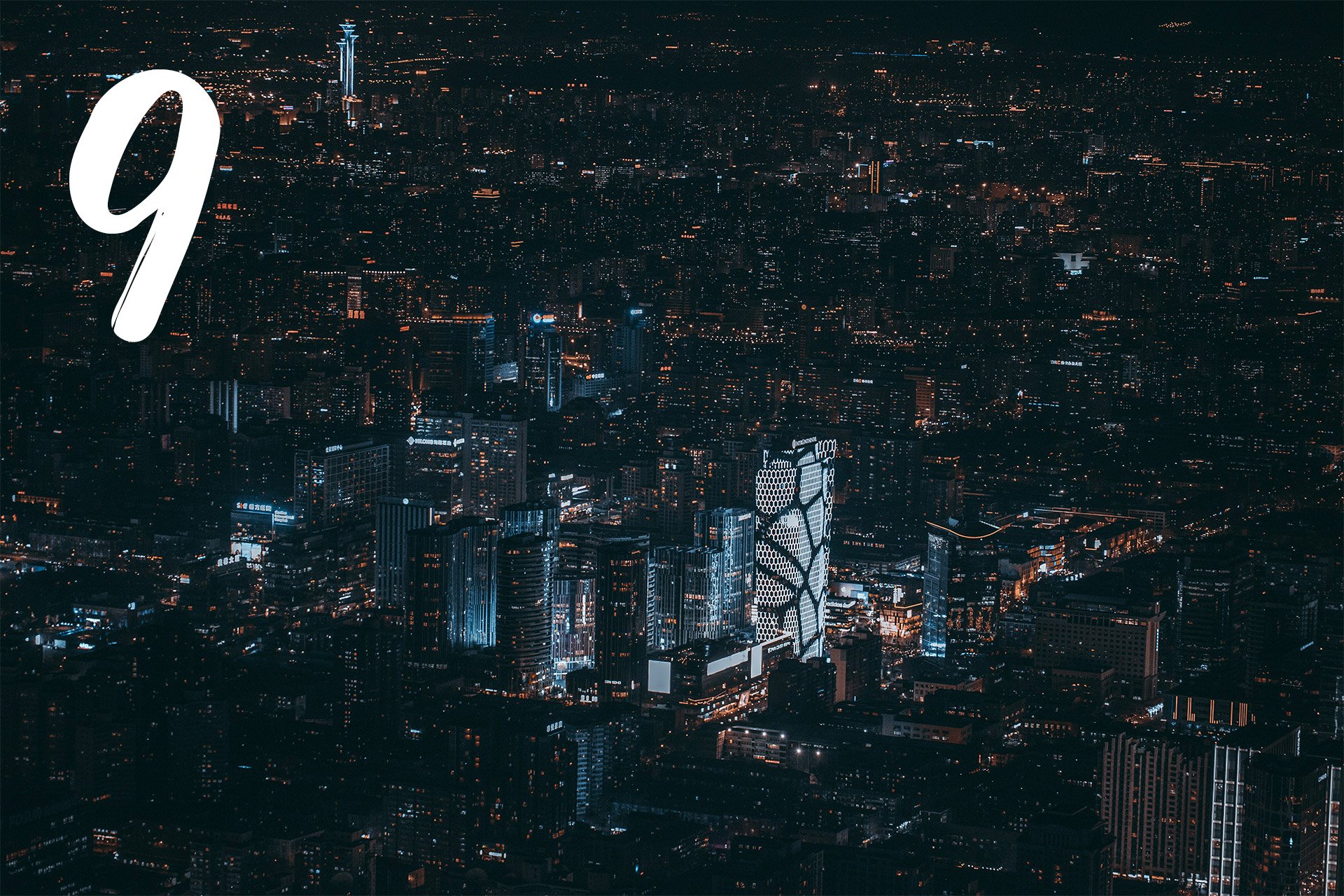 WHY 2018? The Forbidden City
The Forbidden City once served as the Imperial Palace and political centre for the Chinese government for 500 years throughout the Ming & Qing dynasties (1368 - 1911). It's now the largest ancient palace in the world and a symbol of stunning endurance. Due to the sheer scale, restoration is ongoing - however, this year previously restricted areas are now open to the public, and with nearly 10,000 rooms to explore they have a plan to have 80% open to visitors by 2020!
FAST FACTS:
Population: 21.5 million
National dish: Peking duck is a famous dish from Beijing. Thin, crispy and often eaten with pancakes, sweet bean sauce, or soy with mashed garlic.
Best time to visit: April - May is Autumn and boasts comfortable temperatures and lacks the crowds and rain showers that come with the Summer season.
Other must do's of Beijing:
Wander the Great Wall of China
Visit the famous Terracotta Army
Snap a photo at the famous gates of Tiananmen Square
Wander the bustling markets
Start planning: Click to check out our Teach in China trip!
Buenos Aires, ARGENTINA - the "Paris of South America"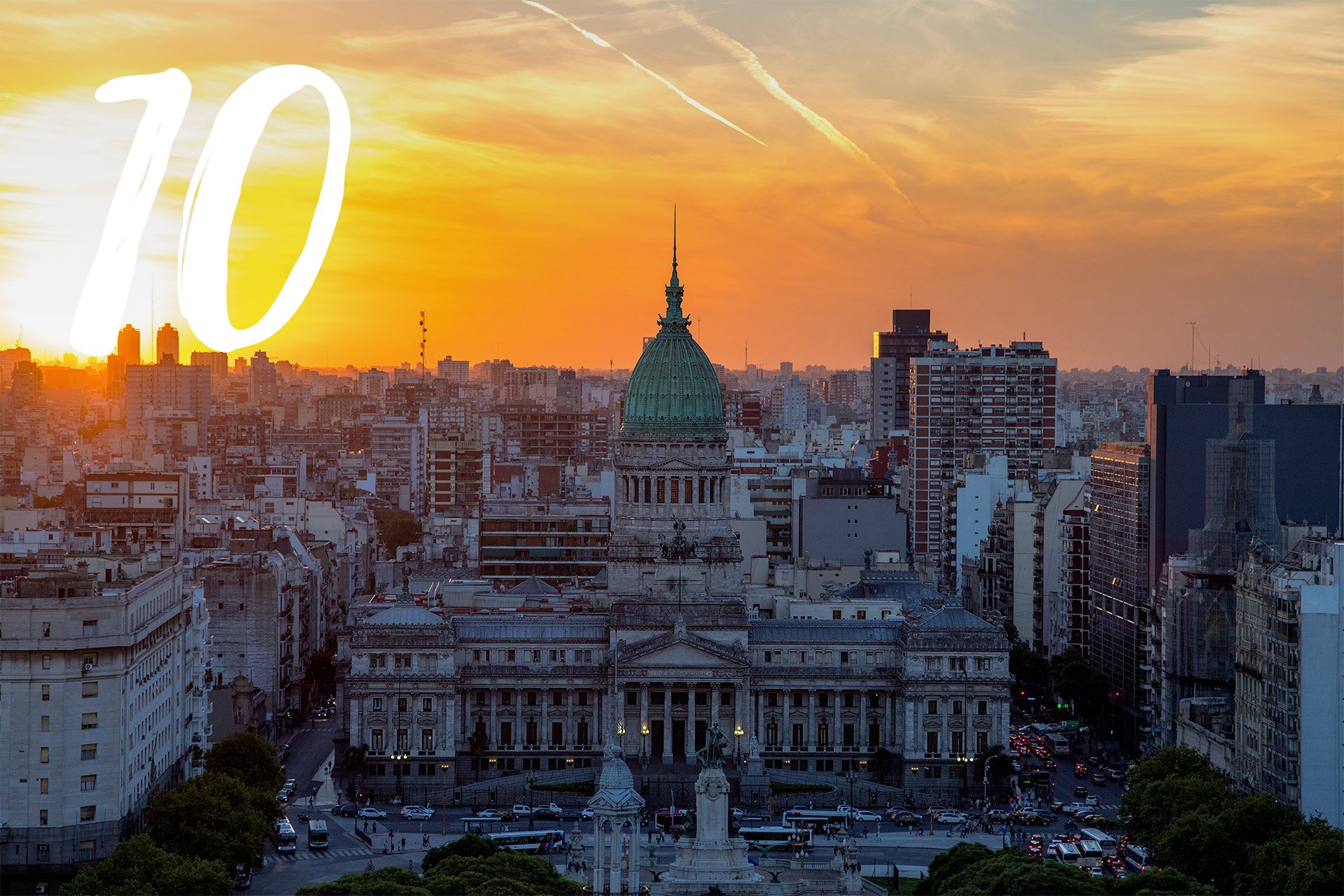 WHY 2018? 2018 Summer Youth Olympics
Buenos Aires lives up to its nickname, with an overwhelming cafe culture that would definitely rival its European counterpart. This electric city is a hot spot for lovers of music, food and dancing and 2018 is proving to be an especially exciting year for the second largest city in South America. Sports fans can cheer on world-class tennis matches, polo tournaments and even the 2018 Summer Youth Olympics this October.
FAST FACTS:
Population: 2.8 million
National dish: Argentine Asado is a variety of barbecued meat grilled on a parillo (a large grill) that is packed with steaks, ribs, chorizo, mollejas (sweetbread), chinchulines (chitterlings) and morcilla (blood sausage)
Best time to visit: The weather in Buenos Aires is ideal in autumn (March -May) and Spring (September-November). The most beautiful time to visit, however, is in October and November when the jacaranda trees are in bloom.
Other must do's of Buenos Aires:
Go market-hopping in San Telmo
Get cultured at MALBA and see Frida Kahlo's work in the flesh
Escape the urban jungle in the Buenos Aires Ecological Reserve
Try out the tango & mind your toes at a milonga (tango event)
Start planning: Check our our Community Buenos Aires Volunteer Trip!
New Orleans, USA - A party 300 years in the making.
WHY 2018? The Big Easy turns 300.
Known for its round-the-clock nightlife, colourful demeanour, and non-stop flow of energy, you wouldn't think the Big Easy was a day over 21. Well, it turns out she's turning the big 3-0-0 this year, and in honour, special events have been scheduled throughout the year to reflect on its history as well as it's melting pot of French, African & American cultures. To commemorate, the government is also planning a major $6 million makeover to it's famous Bourbon Street.
FAST FACTS:
Population: 391,495
National dish: Shrimp gumbo and rice, Po' boy sandwiches and Jambalaya. Yum!
Best time to visit: The best time to visit New Orleans is from February to May when the weather is comfortably cool and the celebrations are in full swing.
Other must do's of New Orleans:
Walk the oldest streets in North America in the French Quarter
Gawk at Carnival floats up close
Magazine Street has a good six miles worth of shopping
Check out the amazing art scene at Jackson Square
Start planning: Read more about the USA on Global Roaming.
Reykjavík, Iceland - The secret is officially out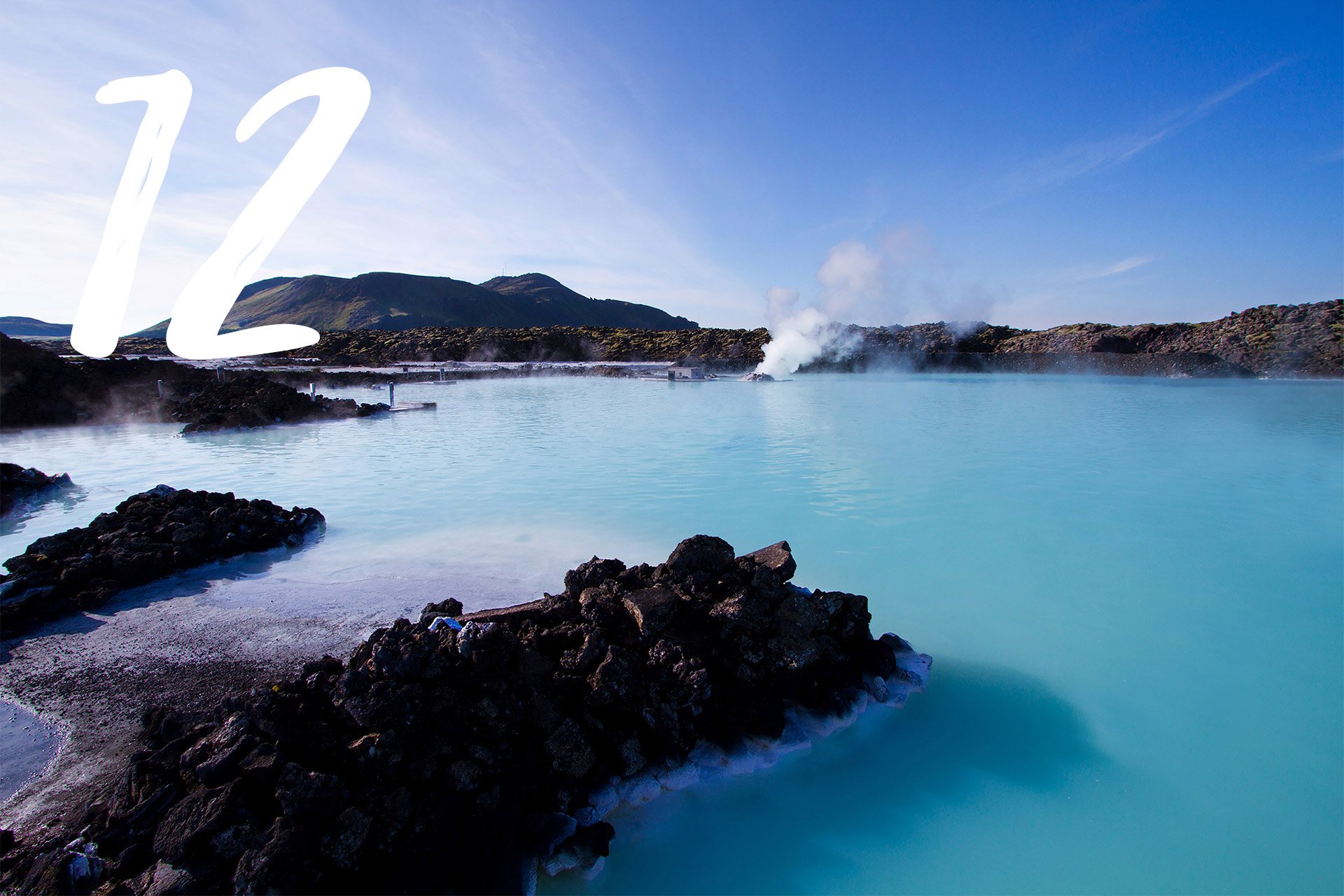 WHY 2018? The Blue Lagoon is getting an upgrade!
Iceland used to be a luxury hotspot only accessible by the rich and famous. Now, thanks to the cheapest WOW Air Flights we have ever seen to Reykjavik, travellers can now access this charming Nordic isle, characterised by lava fields, volcanoes, waterfalls and glaciers much cheaper, and easier! The world famous Blue Lagoon is going through a phase of expansion and will see it's first luxury hotel open in 2018 - plus new geothermal baths and natural spas!
FAST FACTS:
Population: 334,252
National dish: Hákarl (meaning 'shark' in Icelandic) is shark meat, which has been preserved. It is part of the 'þorramatur', the traditional seasonal Icelandic foods. It is often accompanied by brennivín, a local schnapps. Delish!
Best time to visit: Hikers will want to consider July and August as the best time to visit Iceland. Whereas February, March, September and October are typically the best time to visit Iceland for the Northern Lights.
Other must do's of Iceland:
Witness the spectacular Northern Lights for yourself
Snorkel or snowmobile the Golden Circle
Visit the West Fjords
Go Glacier Hiking and Ice Caving
Start planning: Hop over to Iceland on our Working Holiday Trip to the UK!
Cambodia,
 Asia
- Where ancient and modern worlds collide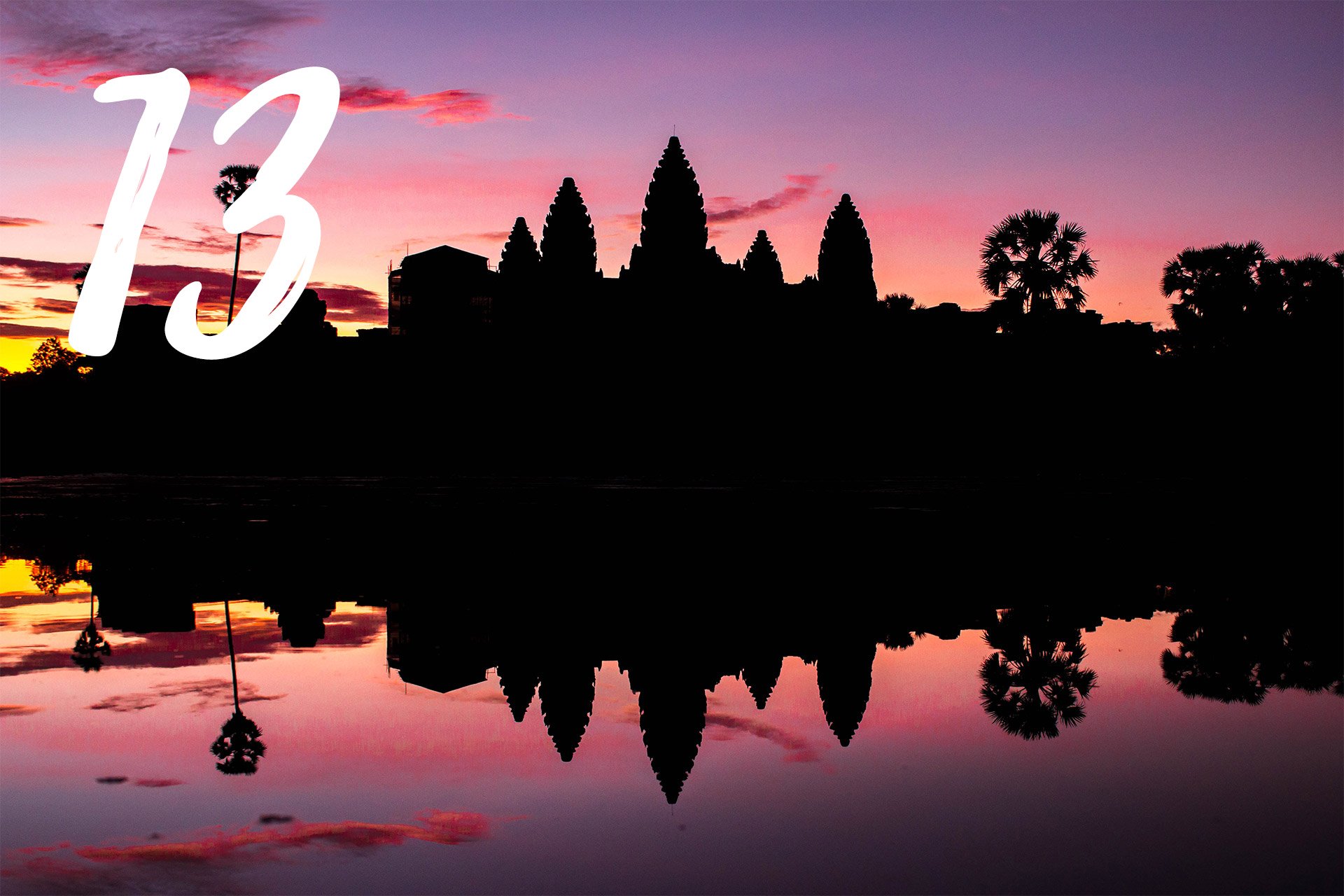 WHY 2018? Shinta Mani Wild
It used to be that a trip to Cambodia could begin and end with a trip to the spellbinding temples of Angkor Wat. Now interest has sparked further afield and extended to the untouched islands and mountainous rainforests. In the previously unprotected wildlife corridor near Southern Cardamom National Park, Shinta Mani Wild is a new luxury camp experience set along 1.5 kilometres of river and waterfalls to provide an experience unlike any other in Asia. Visitors will be surrounded by the local residents including wild elephants, bears and tigers!
FAST FACTS:
Population: 15 million
National dish: A popular Khmer dish known as 'amok' is the method of steaming curry in banana leaves and then it's served with catfish.
Best time to visit: November is the start of the dry (and busy) season. Alternately, going from June to August means low room rates, fewer crowds, and a lush, green landscape - with an afternoon shower or two.
Other must do's of Cambodia:
Explore rural Cambodia on our Community Outreach Volunteer Trip
Take a Tuk-Tuk to Downtown Siem Reap
Take A Boat to the Floating Villages on Tonle Sap Lake
Learn the history of Cambodia with a visit to The Killing Fields
Start planning: Read more about Cambodia on Global Roaming.
Malta, EUROPE - This tiny nation's buzz has been building for years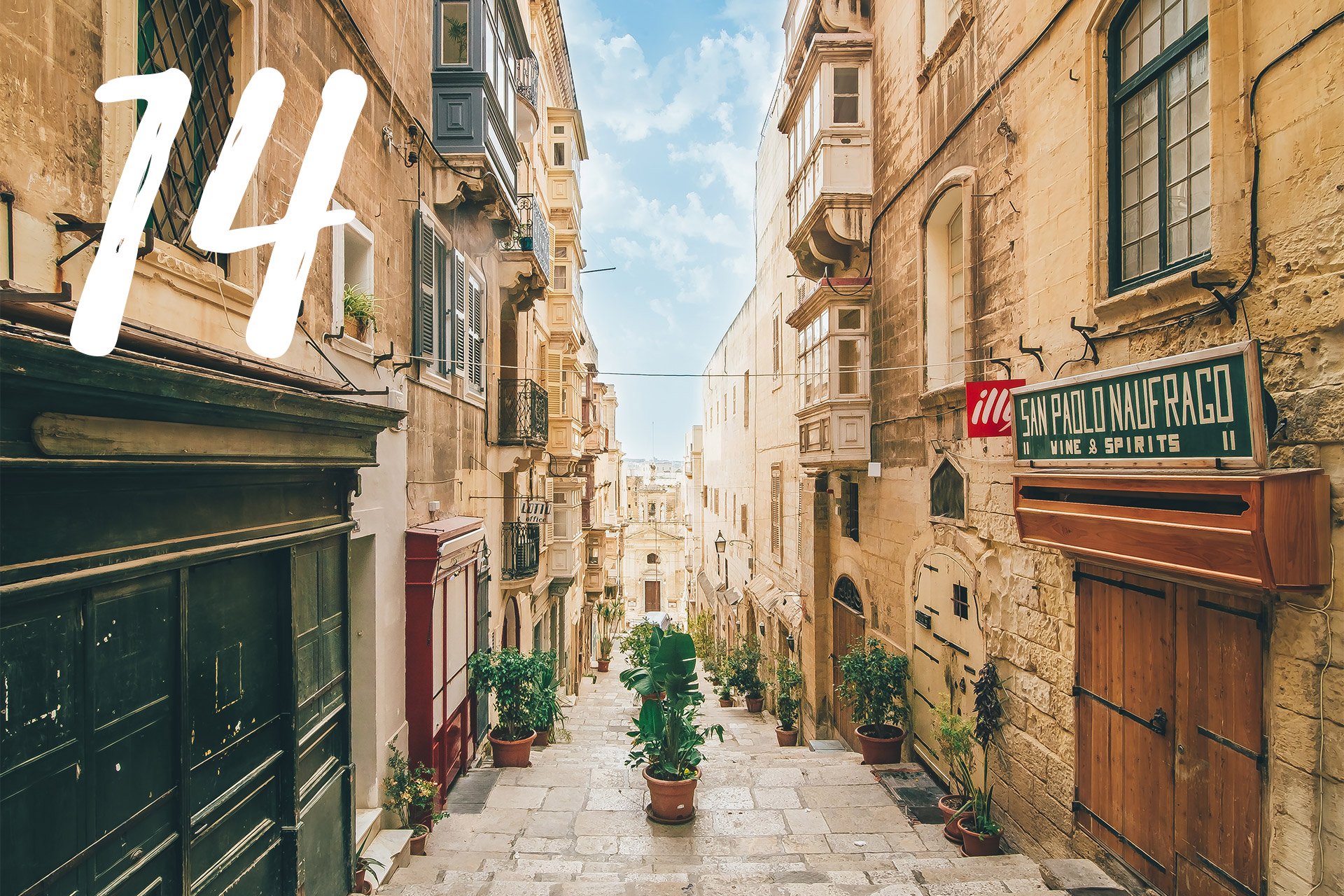 WHY 2018? Valletta
If you look at a map closely, you'd think Malta is just a tiny speck on the boot of Italy. But it's so much more. A European crossroad filled with fascinating history, prehistoric temples crown hills, 17th-century fortifications stalk the coast and not to mention the laid-back lifestyle, beaches and more than 300 days of sunshine a year! Valletta has been named Europe's Capital of Culture for 2018 and over 400 events have been planned throughout the year to celebrate.
FAST FACTS:
Population: 440,000
National dish: Traditional Maltese food is rustic and based on the seasons. Look out for Lampuki Pie (fish pie), Rabbit Stew, Kapunata (Maltese version of ratatouille), and widow's soup, which includes a small round of Gbejniet (sheep or goat's cheese).
Best time to visit: If you are looking for uninterrupted sunshine then the summer months are the best time to visit. But it's also an excellent winter destination.
Other must do's of Malta:
Take a tour of all the Game of Thrones locations
Tour temples older than the Pyramids at the Megalithic Temples on Gozo
Explore the Blue Grotto
Scuba dive one of the best spots the Mediterranean has to offer
Start planning: Hop over to Malta while on your Au Pair Trip in Europe!
Glasgow, Scotland - One of the UK's up and coming most intriguing metropolis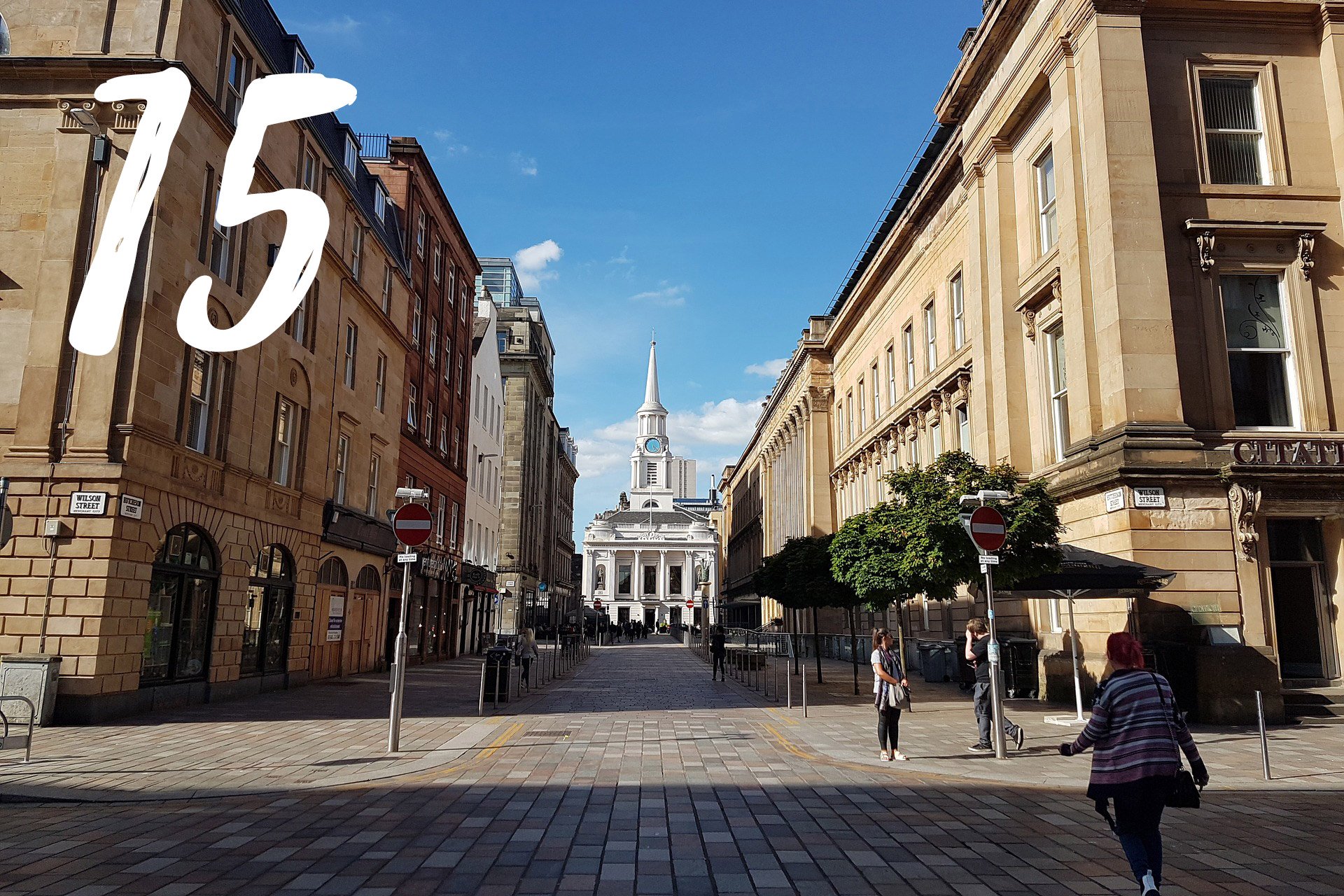 WHY 2018? A city re-invented!
It claims the title for the world's friendliest city, now Glasgow has even more going for it. It's set to see another major revival in 2018, with the creation of more than 250 architectural projects taking shape on the River Clyde. 2 of the 20 new distilleries opening in Scotland are in Glasgow, including the $12.3 million Clydeside Distillery, the city's first in 100 years.
FAST FACTS:
Population: 5.5 million
National dish: Haggis is a savoury meat pudding, and it's traditionally accompanied by mashed potatoes, turnips (known as 'neeps') and a whisky sauce.
Best time to visit: Visit Glasgow is the months between March and August when temperatures reach their peak and daylight hours are longer. On the flip side, the winters are characterized by bitter cold and short days.
Other must do's of Scotland:
Hold down the fortress at Edinburgh Castle
Visit The Loch Ness Monster
Swim in the fairy pools of Isle of Skye
Take a Scotch Tour in the home of Whiskey!
Start planning: Check out our Working Holiday Trip in the UK!
Nepal, ASIA - Back on top of the world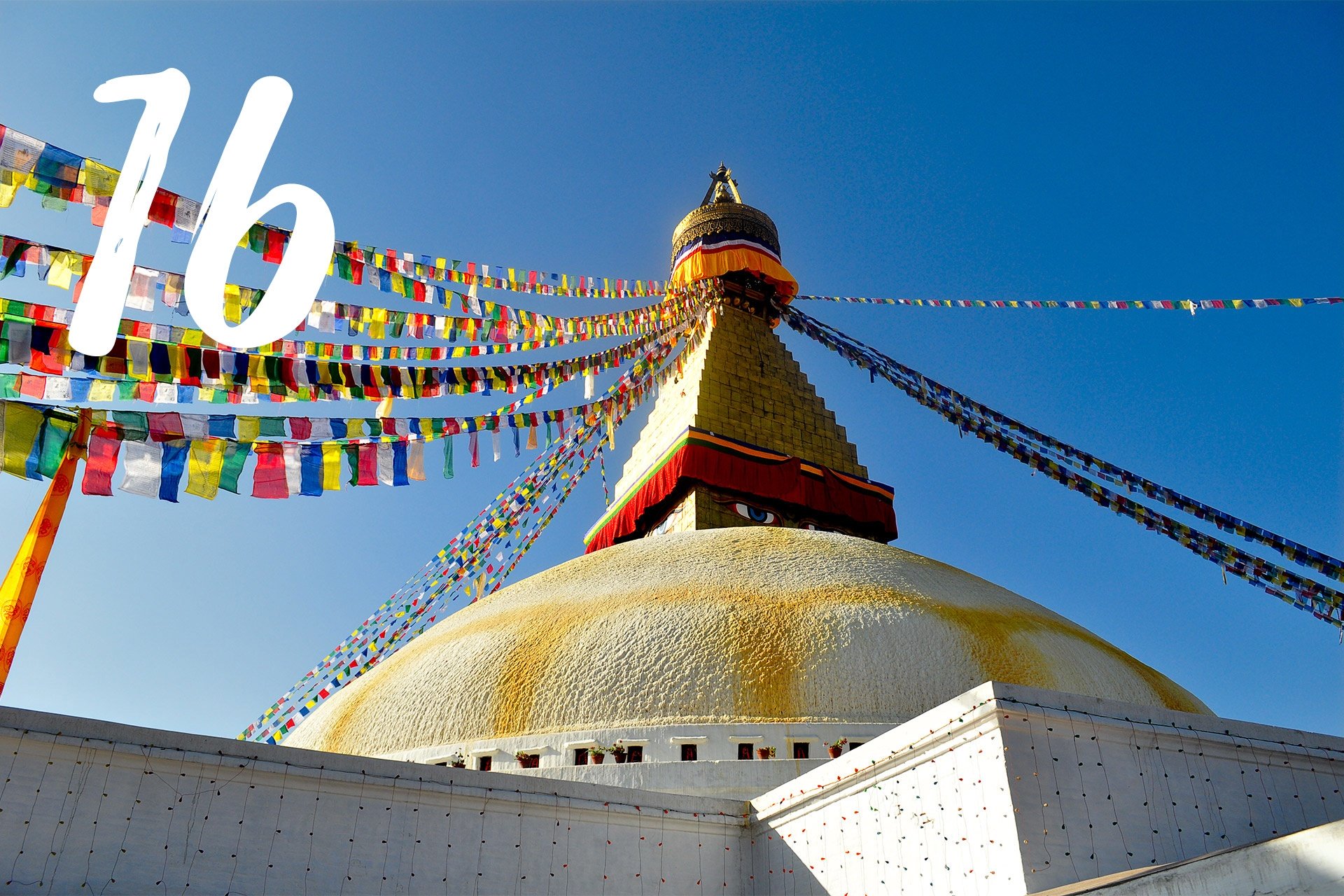 WHY 2018? 'Visit Nepal Year'
Nepal needs no introduction, this country of extremes is a must do for travel enthusiast all around the world. Over the past few years, a series of natural disasters has led to a dramatic decline in visitors. This year the government have started planning for the future of travel declaring 2018 the 'Visit Nepal Year' and has the ultimate goal of attracting 1 million visitors.
FAST FACTS:
Population: 29 million
National dish: Dal bhat is lentil soup and traditionally served with rice and veggies.
Best time to visit: October and November are two of the best months to visit as dry days make hiking easier and offer better visibility.
Other must do's of Nepal:
Snap a picture at the Boudhanath - Asia's largest stupa!
Trek through the Himalayas
Explore the temples in Kathmandu
Get a glimpse of Mount Everest
Check out our Humanitarian & Namaste Nepal Volunteer Trips!
Prague, CZECH REPUBLIC - A magical city of bridges, cathedrals, gold-tipped towers and church domes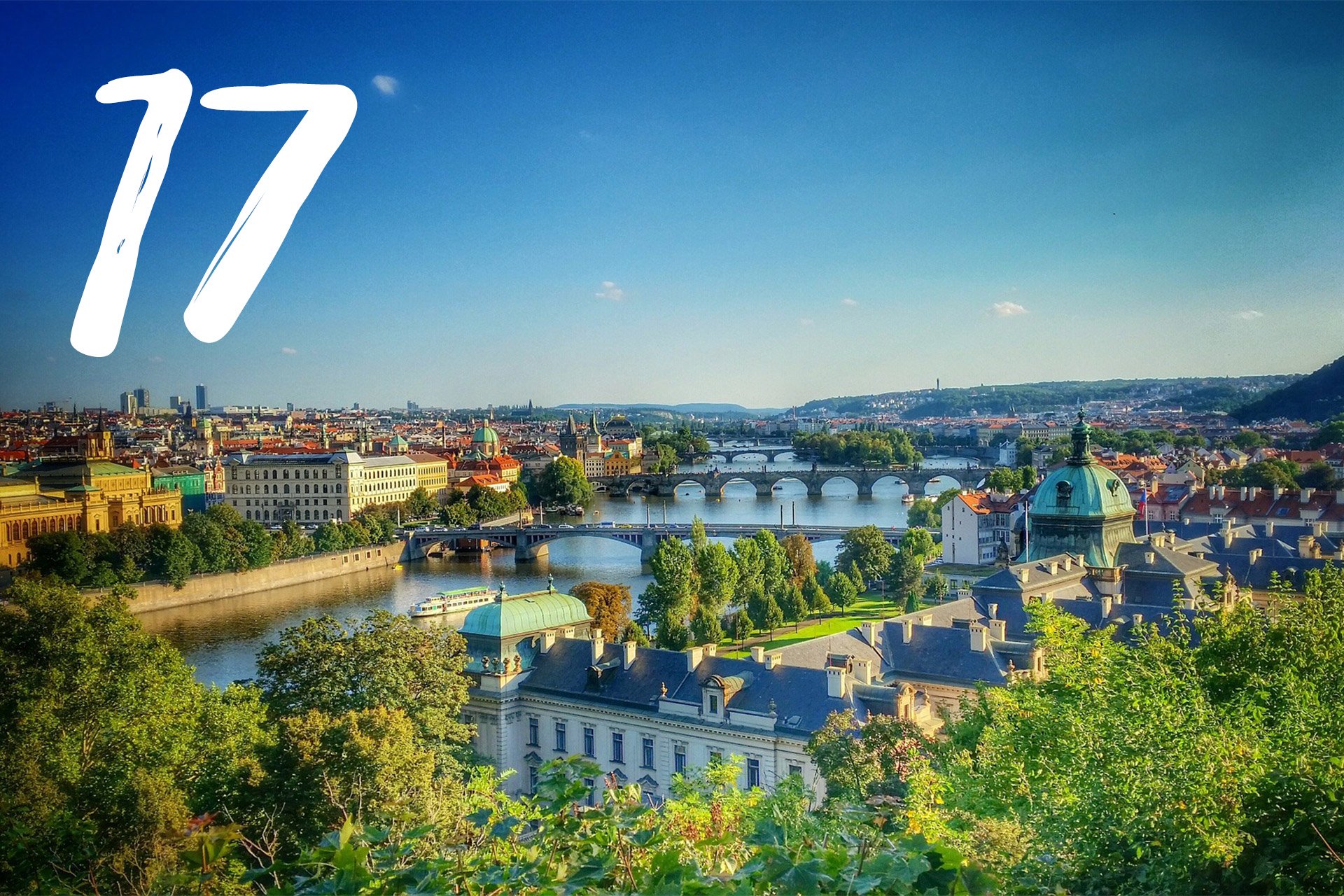 WHY 2018? 100 Years of Independence.
Prague is considered one of Central Europe's most charming and colourful cities - with breathtaking views 365 days a year. This year the Czech capital will celebrate 100 years of independence and festivities will run all year long with plenty of concerts, events and exhibitions to celebrate 'the city of a hundred spires'.
FAST FACTS:
Population: 1.3 million
National dish: A traditional "Bohemian platter" consists of roast duck, roast pork, beer sausage, smoked meat, red and white cabbage, bread, bacon and potato dumplings.
Best time to visit: The best times to visit Prague are the spring and early fall when the weather is mild and there are fewer crowds.
Other Must do's of Prague:
Explore the Old Town Square with the famous Prague Astronomical Clock
Witness the old ghetto and winding lines of the Jewish Quarter
Admire the Lennon Wall
Visit the magical Prague castle
Start planning: Hop over while on a Working Holiday Trip in the UK!
Toronto, Canada - The most multicultural city on the planet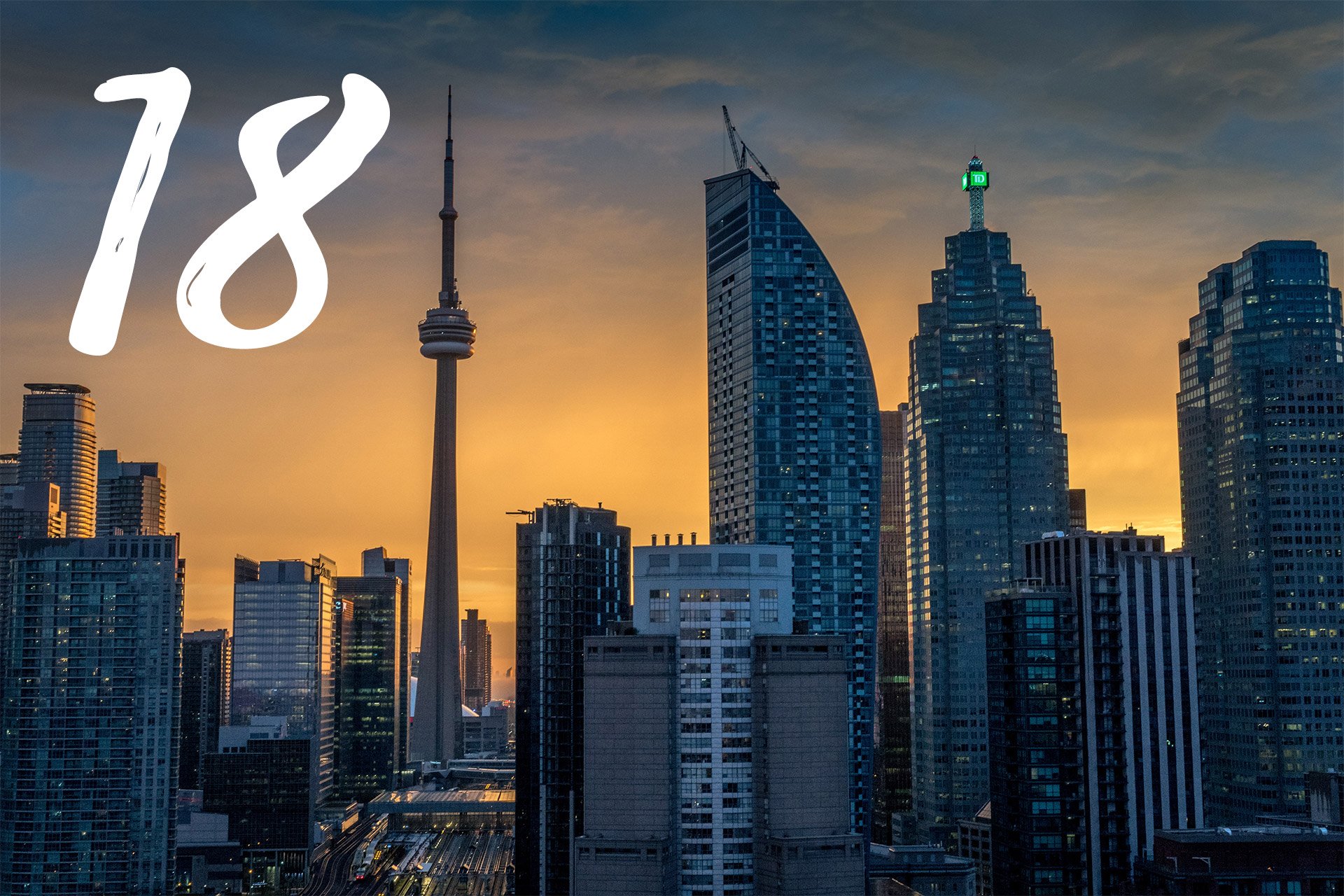 WHY 2018? Another big B'day for Toronto!
Canada isn't all maple syrup and moose, folks. They love to party! They may have just finished up a year-long party in celebration of 150 years of Confederation. But, now it's Toronto's turn. Toronto itself is turning 225 this year and as you can imagine, there's plenty happening year-round in this cosmopolitan city.
FAST FACTS:
Population: 6 million
National dish: Poutine! Consisting of French fries, cheese curds and topped with gravy. They're all about it eh and so are we eh!
Best time to visit: Canada is one of the most beautiful places on earth during all of its seasons!
Other must do's of Toronto:
See the city from above in the CN Tower
Take a trip to the Distillery District
Stand on the edge of glory at Niagara Falls
Check out Toronto's buzzing nightlife
Start planning: Read more about Canada on Global Roaming.
Ready to rumble yet? Get in touch via the red button below and we'll help you find your very own path to explore!