Global Destination Reviews: Our Guide to the Gold Coast
Imagine waking up to a perfect sunrise, squishing your toes between soft sand as you take a cruisy morning stroll on the beach followed by a chai latte at a trendy little cafe somewhere along the coastline.

Bliss and this is just the start of your day! Fill the rest of your day visiting enchanting waterfalls, picking from our epic selection of surf spots, so many delicious foodie hotspots and we're pretty sure we have just convinced you to make the Gold Coast your next vaycay destination!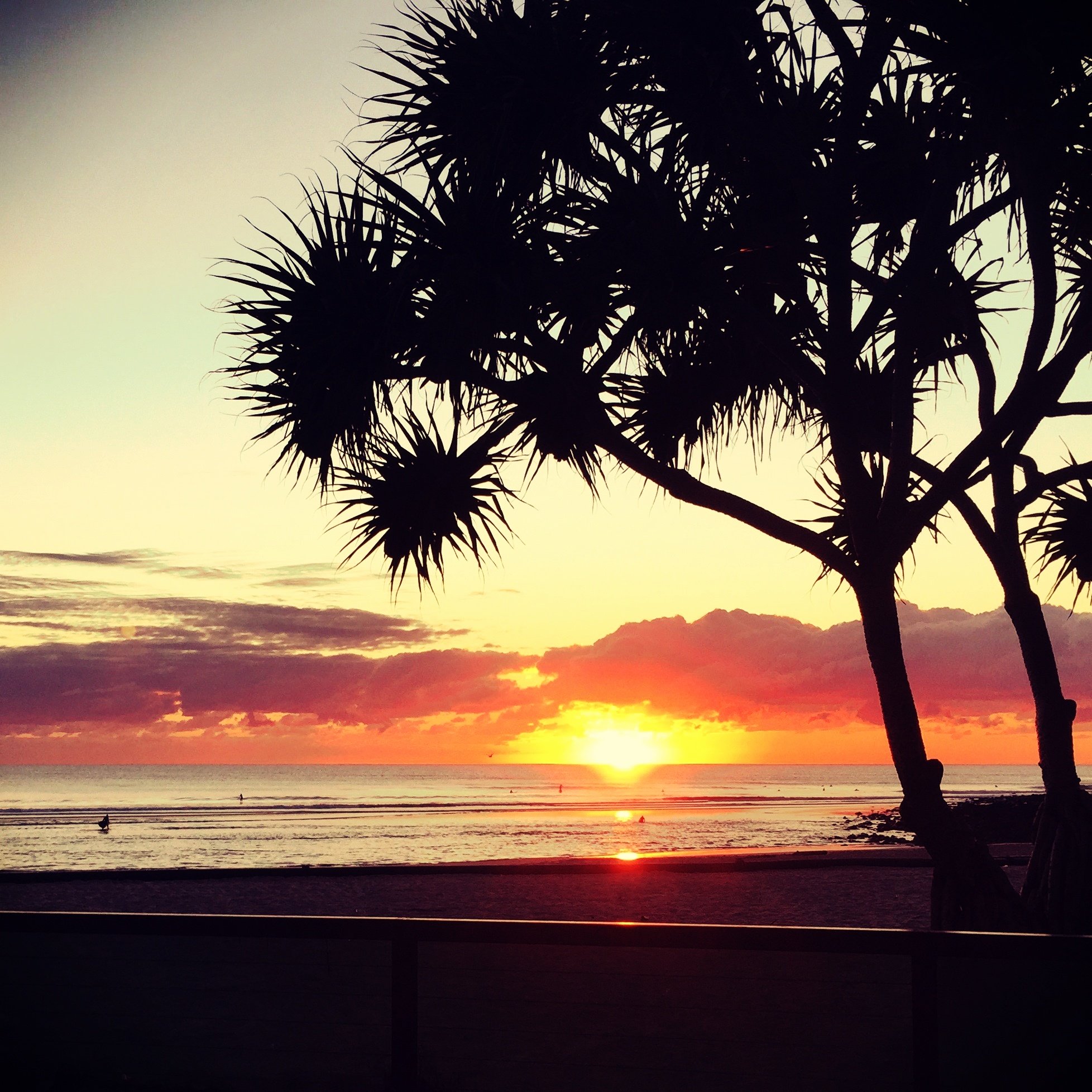 Population:

 

600,000

 

Best time to travel:

 All year pretty much feels like summer. 
The Gold Coast is a regional city about an hour south of the state capital Brisbane. It sort of sits somewhere between a large village and miniature concrete (or sand) jungle. It's hard to think how you can cram a hinterland, high-rises, and a tonne of dreamy coastline into one place, but the Gold Coast makes it work.  
Whether you're here to spend a week or maybe you are about to fall in love with the lifestyle and you're going to make it your new home, here's a taste to get you started...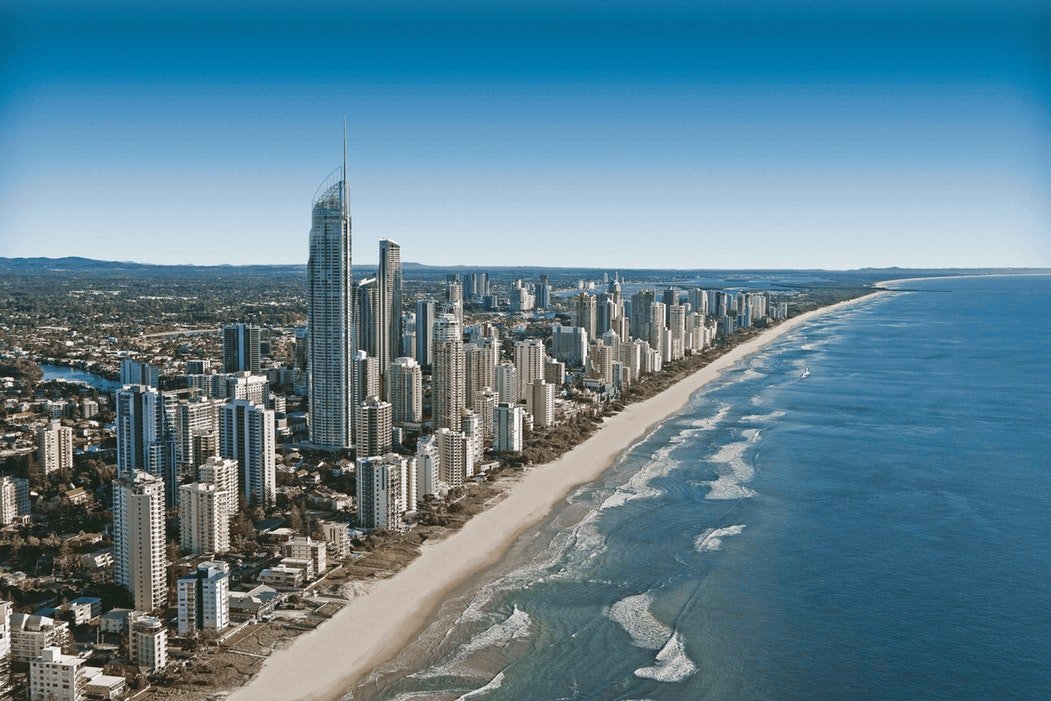 BEACH, please  🌊
Ok, so there is about 57 km (35 miles) of beachfront to choose from so you can't go too wrong here! These are some of the local favourites and why these patches of sand are slightly cooler than the others.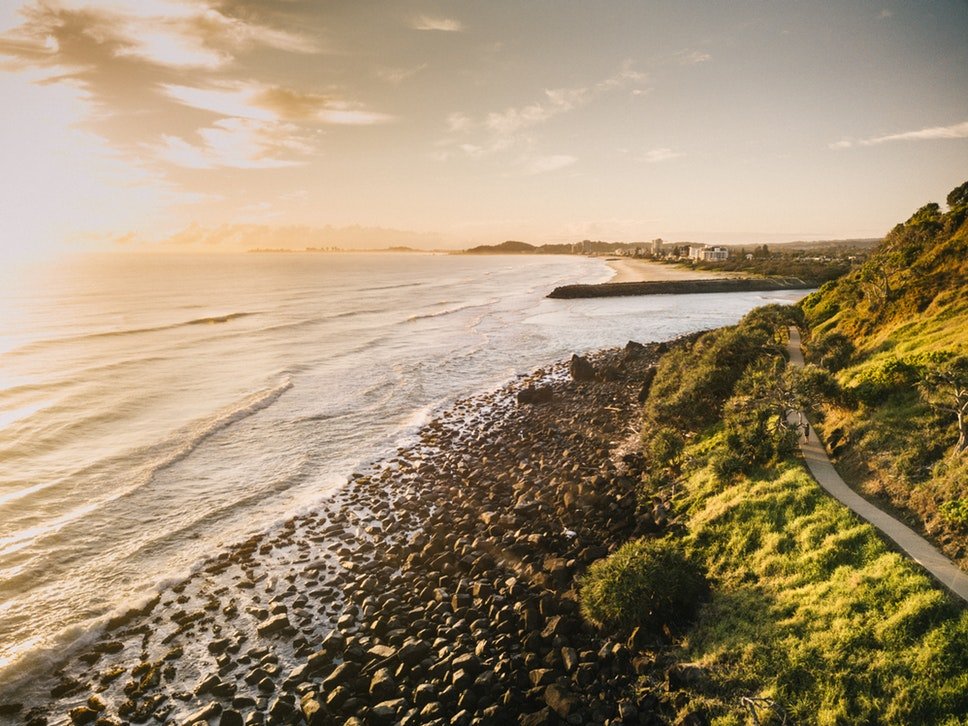 📍BURLEIGH BEACH
The best part about Burleigh...the fact that the shoreline, popular eateries and view of the entire northern coastline are all within a small walk from each other. You have a perfect amount of beach to lay back on, sunshine, surfer guys hitting waves, lifeguards, James St filled with tailored boutiques, all while maintaining the vibes of a small beachside town.
📍TALLEBUDGERA Creek 
Just a cruisy walk around from Burleigh and you will find yourself surrounded by the calm shores of Tallebudgera Creek. Water floaties are trending right now so bring your giant blow-up swans & watermelons or hire a stand-up paddle board to cruise along with and hopefully you will get to meet some of the friendly dolphins that like to play here too!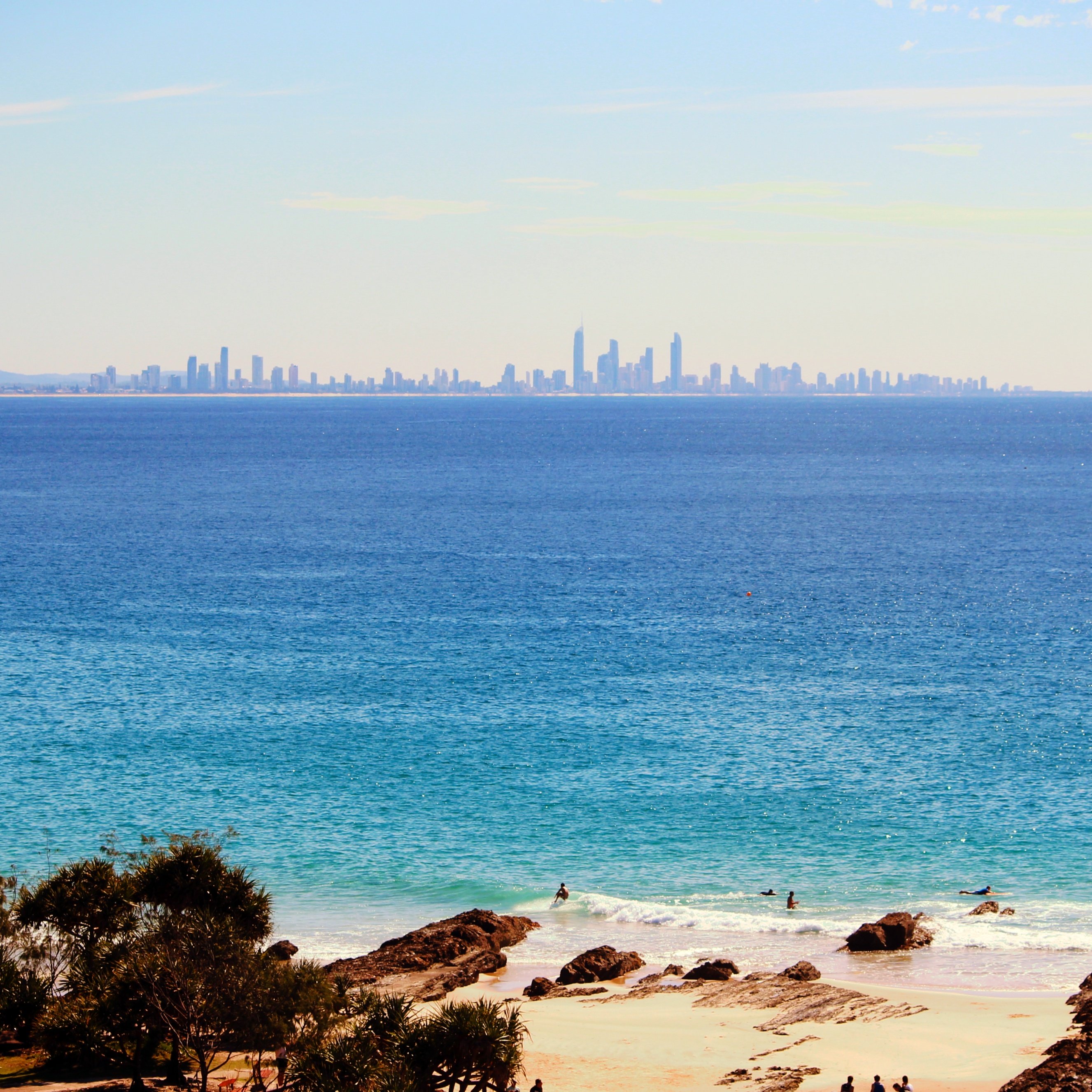 📍COOLANGATTA
Coolangatta holds some beachy, relaxed vibes and has amazing places to swim, frisbee, lunch, get merry and carry on until the evening. If you like a holiday novelty it is also the spot for finding yourself in two places at once across the Queensland and New South Wales state border and as a triple bonus gives you a shot back of the entire Gold Coast.
CAFFEINE HITS ☕️
This is your reward at the end of that long morning walk or because you need to calm that serious ongoing caffeine addiction! With amazing new coffee places popping up all over the place on the reg you can't go too wrong but here is a GC caffeine starter kit for the newbies.
ELK ESPRESSO 
Vibe: arty hangout with mismatched furniture. 

This slice of cafe heaven is located in Broadbeach, serving liquid gold speciality coffee and unforgettable treats. Perched on the beachfront, it is the perfect wind down space.

It's attracted big celebs like Orlando Bloom for a morning spot of coffee (no biggie, this was his ultimate hang out while filming Pirates of the Caribbean, sometimes seen two times a day).
THE PADDOCK BAKERY
Vibe: a stylish weatherboard space with a green leafy garden. 
What was once a bit of a run down shack has been turned into one of the Gold Coast's local treasures with its very own in-house bakery where you can watch the goodies on the menu being created.
The Paddock Bakery is all about fresh, glorious food and sweets that perfectly match the brew you just ordered. 
EVENING EATS 🍴
Yep, still talking about food but let's be honest you are on holiday and can eat to your hearts content! Now for the evening foodies that want to pick something delicious to try that will make your tastebuds loose it.
JUSTIN LANE ROOFTOP 
Speciality: Award winning pizzas, pastas and cocktails. 
There is just something awesome about a rooftop where you can eat, drink and look at the night sky. Way cooler than any place with ceilings that's for sure! 
Justin Lane have nailed it by being the only one of its rooftop kind on the Gold Coast. Add some 'won't ever forget how amazing that wood-fired pizza perfection was' and an infused cocktail of magic you will leave wishing you could take this place with you.
GREENHOUSE CANTEEN
Speciality: Cruelty free & killing it. 
A palace of greenery to enrich not only your taste buds but every inch of your body. The Greenhouse Canteen is entirely on point when it comes to its wonderfully tasty, wholesome menu selection and it's delightfully friendly team who are all about keeping a smile on your face! It is a perfect eating adventure for our vegan friends out there that want a deliciously whole meal and tasty cocktails to match! 

FOR THE NIGHT OWLS 🍹
Looking to stay up way past your bedtime? Please see below.
SURFERS PARADISE
Sip cocktails 77 stories high at Skypoint Bar at Q1, watch the sunset at Cocoon Lounge Bar on the water, there's an Irish Bar down every street to sing loudly in, nightclubs, karaoke bars, Hard Rock Cafe and night markets on along the beach front. Whatever you are looking for it's here!
BROADBEACH
A suburb down from the twinkle of Surfers Paradise is Broadbeach. This is the spot to find mini music festivals and live gigs on the events calendar for the Gold Coast. Happy hour runs along Surf Parade with restaurants and cocktails at your pleasure and once you have popped into every bar you can find a place to twerk at the clubs skilfully hidden between the buildings. Last but not least is our very own Jupiters Casino with absolutely everything you could hope for in a great night out!
NOBBYS BEACH

A perfect starting point for your night out is Nobby's Beach. Every bar and restaurant has its own unique specialty like craft beers at Bine, Ouzo at Hellenika, chopsticks at Hachi, margaritas & tricks at Mexicali, live music at Little Beans and it also doubles as the perfect Sunday Session location for those that know how to back up from the evening before! 


GO FIND ADVENTURE 🏃
Activities perfect for sunshine which we happen to have a lot of!
SURF LESSONS 
Seriously, our beaches are out of control amazing! So it's understandable to have the urge to want to grab a board and catch some waves. Unfortunately, this urge doesn't really match the fact that most of us have no idea how to surf at all. Time to fix that! Get in touch with Get Wet Surf School and become one with the waves.
THE HINTERLAND
See the GC from a totally different angle exploring more of its natural beauties. Southern Cross Day Tours has the best wilderness professionals that can take you through waterfalls, caves, mountains, skywalks and even nocturnal adventures. Or you can pack a picnic and take to the trails yourself. 
FLY

Easily the best way to see every inch of the Gold Coast in a short few minutes is to simply jump out of a plane! You can go visit the lovely daredevils at Gold Coast Skydive who will give you the courage to take the leap from 14,000ft and land you safely on the soft beaches of Kirra. You'll be screaming WOO for the rest of the day. 


Of course the locals are pretty great (the writer of this blog may be slightly biased) and the general vibe of the Gold Coast is  to have fun, relax and enjoy yourself! With so much to do and lovely things to look at everywhere it would be hard not to have a great time! See more incredible evidence of a good time on the Gold Coast at Destination 
Gold Coast
.