Global Destination Reviews: Discover Hong Kong
Situated on the south-east coast of China, Hong Kong is a cosmopolitan city and a tropical paradise all-in-one.
There's a reason it has a reputation as a concrete jungle with more skyscrapers than NYC. Yet, for a city famous for towering structures, it's got a surprising number of urban green spaces and nature reserves tucked away for when you need a breather.
As one of the world's financial capitals, Hong Kong is undoubtedly bucket-list worthy. Come with as we explore Asia's World City!
Population: 7.5 million
Neighbours: China, Vietnam, Taiwan & Philippines
Best time to visit: October to December is the best time to visit Hong Kong if you want a good mix of affordable prices, decent weather and average-sized crowds.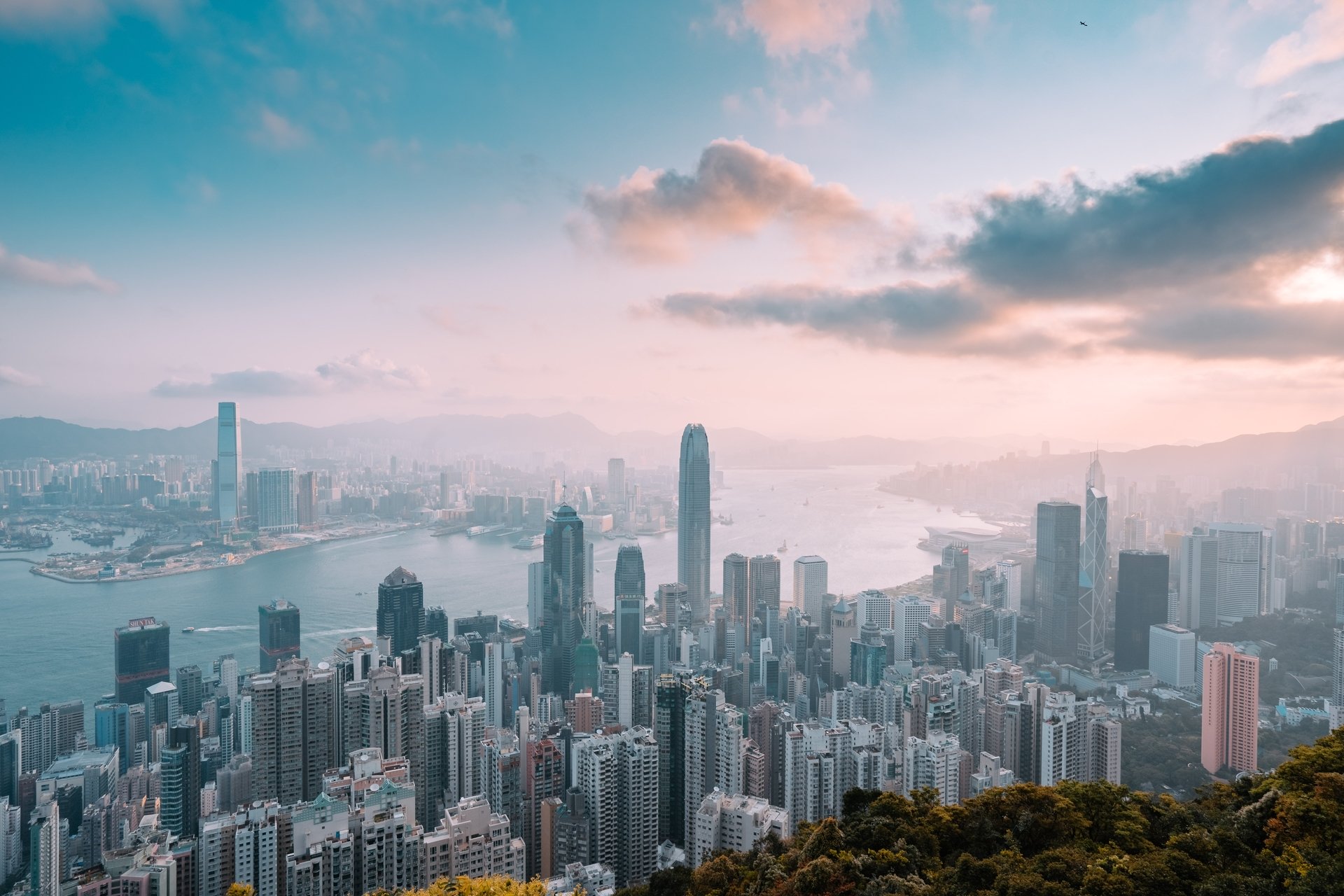 Hong Kong Island
Take a tram to Victoria Peak
Victoria Peak is the ultimate sightseeing hotspot. With an observation deck sitting atop the 550m mountain, it's platform offers breathtaking 360-degree views of the city's skyscraper-studded skyline. At dusk this panorama melts into pink and orange before reincarnating as a dazzling galaxy of light, shimmering as the city wakes up for the night.
Hitch a ride up on the Peak Tram, the city's historic railway, which was the first rail tram in Asia. The tram only takes a few minutes to reach the summit, but this unforgettable/slightly terrifying experience should not be missed.
Top tip: If you're on a tight budget and want to bypass the $7 USD fare, you can hike up (or down). Be warned; it's steep!
Chow down on dim sum, Michelin-star style
Why not scoff down some dim sum where it originated? Tim Ho Wan is the OG of dim sum joints. This local gem has even received a Michelin star and therefore is known as one of the cheapest Michelin-starred restaurants in the world. Though they are best known for their buns, all their food is out of this world. Did we mention it's cheap?
Party till dawn in Lan Kwai Fong
Looking for the best watering holes in Hong Kong? Lan Kwai Fong (the locals know it as LKF) comes to life every night with a wild mix of more than 90 restaurants, clubs and hipster bars to choose from. It's the nightlife district and offers an unforgettable night out with tourists, expats and locals alike.
Wander Quarry Bay
If you're looking for the most Instagrammable spot in HK, Look no further than Quarry Bay. It's a densely packed neighbourhood in Eastern Hong Kong Island; there's nothing quite like the condensed "Monster Building".
Throw down a towel at Stanley Bay
When the hustle and bustle of the city life gets all too much, head to the laid back seaside escape of Stanley. Enjoy a relaxing day at St Stephens Beach then when the sun sets, enjoy some beachside shopping at Stanley Market. Aside from the postcard-worthy views, its got a fantastic variety of souvenirs, trinkets, silk garments and clothes for dirt cheap.
Top tip: If you're in Stanley on the fifth day of the fifth month of the Lunar calendar (which usually falls around May or June), catch the action at the Dragon Boat Festival. Local and international teams battle it out in colourful dragon boats as part of the annual celebrations held on Stanley Beach.
Kowloon
Hop on the iconic Star Ferry for a Harbour Cruise
First thing's first, you need to cross over to Kowloon. Taking the Star Ferry from Central Pier offers incredible views of the city, and it's ridiculously cheap to do. Seriously, a ticket will set you back a whooping 2.70HK$ ($0.34 USD). The real money shot can be snapped from the Kowloon side, which offers fantastic views of the Hong Kong Island skyline from the waterfront.
Top tip: Each Wednesday a ton of public museums offer free entry - we're talking the Museum of Art, the Science Museum and the Space Museum!
Take in views from the top
The Ozone Skybar is the second highest bar in the world. It's located 118 floors above Kowloon in the fancy Ritz Carlton Hotel. If you're going all the way to the top, you may as well treat yourself with a unique cocktail. They are pricey, around 195HK$ each ($25 USD) but every cocktail has been created to perfection.
Discover the best of Hong Kong's Chinese Temples
Perhaps it's famous for its claim to 'make every wish come true' or it could be for its high-level accuracy of fortune telling through the practice of Kau Chim. The Sik Sik Yuen Wong Tai Sin Temple sees worshippers offer a stick of lit incense, kneel in front of the altar and ask a question. They then shake a box of fortune sticks until one falls out and the numbered stick is exchanged for the written answer.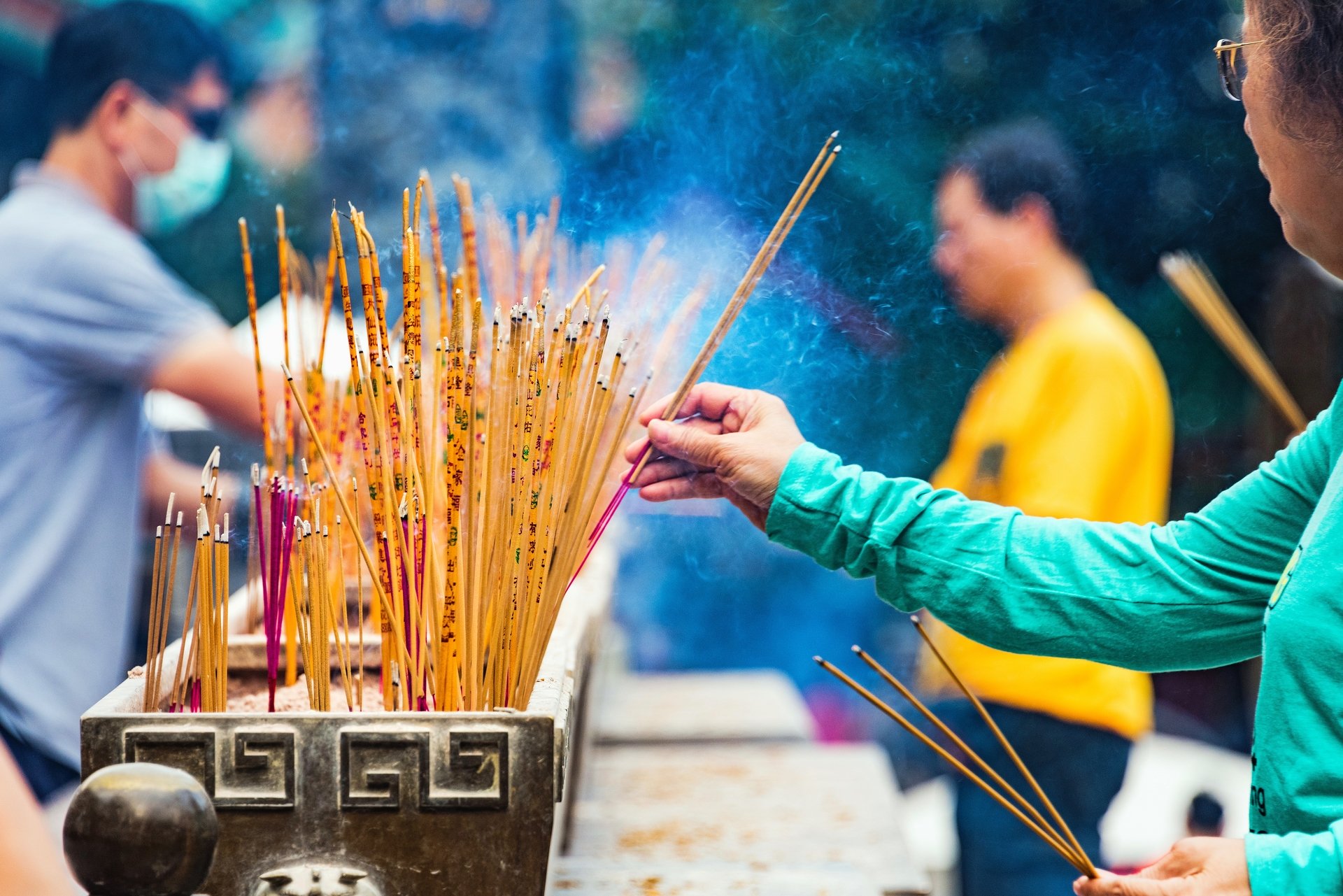 Wander along with legends of World Cinema
The Avenue of Stars is a tribute to the Hong Kong movie industry. Based on the same concept of the Hollywood Walk of Fame, there are over 1,000 celeb handprints. You can even interact with statues of Bruce Lee & Jackie Chan using augmented reality. It's the place to be at night when the daily spectacular of the Symphony of Lights comes to life. The skyscrapers are illuminated by dancing lights timed to the rhythm of music for the largest permanent light and sound show in the world.
Hunt for bargains in Mongkok
Hong Kong's street market culture is legendary. There's everything from cheap electronics to goldfish markets, all centred in the bustling Mongkok neighbourhood within walking distance of one another. Here are some of our faves:
Temple Street Market
HK's best and largest night market. After the sun goes down, the stalls pop up from 6 pm where you can expect to find anything from teaware to selfie sticks to feng shui experts. When your stomach starts to rumble, it's time to taste some of the open-air food stalls on offer.
Ladies Market
Unlike the name suggests, this is actually the go-to place for the best knock-offs, bargain hunts and one of the best places to practice your haggling skills. It only covers 1km but is home to over 100 stalls and it's impossible to leave empty-handed.
Top tip: Don't miss Mongkok's Sneaker Street, which you'll find located adjacent to Fa Yuen Street. It's the best place to hunt down the newest on-trend kicks at decent prices.
Cat Street
Back in the old days, this stretch was a marketplace for stolen goods (referred to as 'rat goods'). Cats hunt rats, and thus it is the customers it was named after. If you're looking for exotic & quirky souvenirs, you'll find plenty of decent trinkets to buy. Though, if you're looking for Antiques Roadshow-style heirlooms, you better go elsewhere.
Jade Market
In Chinese culture, many wear jade to ward off bad luck because it signifies good luck and prosperity. Say hello to the largest emporium of jade, pearls and gems you've ever seen, where you will find every jade accessory you could ever dream of!
Burn off all that dim sum at Dragon's Back
Time Mag has dubbed it as Asia's best urban hike. Check the weather report before embarking on your trek as it can increase the difficulty and decrease its enjoyment, but otherwise, it's one of the most popular hikes around. It offers stunning panoramic views of Tai Tam and Shek O from the top. On your way back down, cool off at Big Wave Bay or Shek O beach!
Lantau
Get your Disney fix at the happiest place on Earth
Enough said. It's Disneyland. Catch stage shows, hit all the popular rides and get selfies with your favourite characters. Disneyland tickets are expensive, and sadly it's no exception in Hong Kong. Here's a sure way to score discounted and cheaper tickets. You're welcome!
Visit the traditional Village of Tai O
A.k.a the 'Venice of Hong Kong'. This quaint fishing village is one of the only places left where traditional bamboo houses are supported by stilts. Stroll through the semi-floating market for a plethora of dried seafood & try traditional snacks like egg waffles and sugar puffs (Chinese-style doughnuts). Tofu pudding, anyone?
Visit Lantau Mountain for Spiritual Reflection
Even though its size is pretty average compared to some of the world's biggest Buddhas ,there are 268 steep stairs to reach Tian Tan (Big Buddha), it's so worth the climb to see the world's largest seated bronze Buddha at the top. Plus, there are utterly stunning views of the surrounding nature and the South China Sea.
Make a day of it in Macau
It's home to world-class casinos, and they rake in seven times more in gambling revenue than Las Vegas each year, so a visit to the true sin city is a must! Vegas of the East may be a one-hour ferry ride away, but it's an ideal day trip or weekend getaway.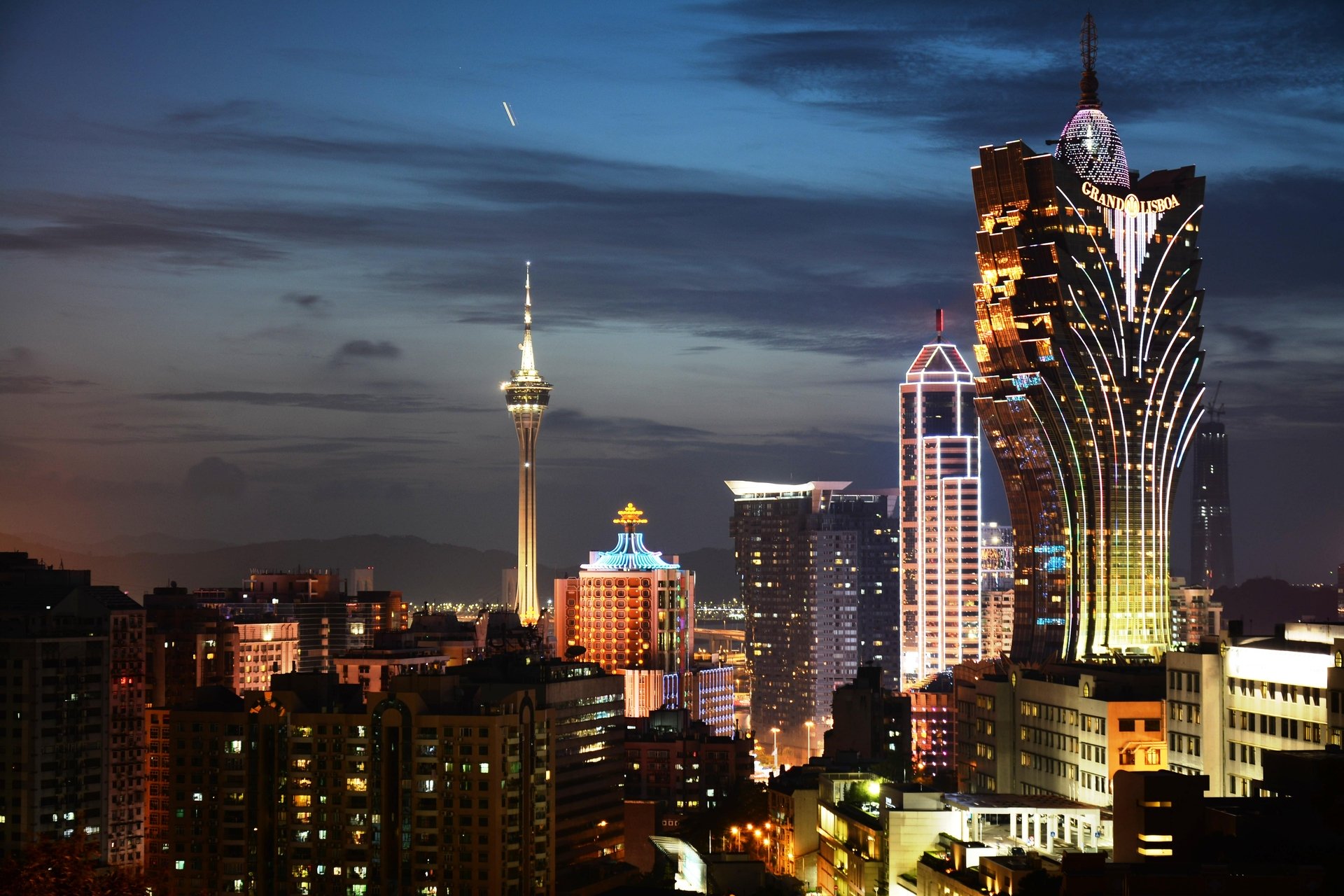 Those wishing to catch a glimpse of Hong Kong should look no further. The hub of international business is ready for you! Interning in Hong Kong is the perfect opportunity to enhance your career and professional development with international experience in Asia's financial and international trade centre.