Insider South America Series, Chapter 3: Bariloche, Argentina
Welcome to where the world ends, and Patagonia begins. Bariloche is known for it's Swiss style architecture and delicious chocolate. It's a great base for hiking and skiing the nearby mountains and exploring the surrounding Lake District.
We caught on a 9-hour bus from Puerto Varas, Chile, up and through the Andes to the other side and entered the beautiful little town, San Carlos de Bariloche, where Patagonia begins! It's got to be the most beautiful part of the world we have ever experienced... Well, so far!
HOW TO GET THERE
We caught a bus from Puerto Varas to Bariloche, and it cost less than $30AUD. You can buy tickets online, or directly from a bus terminal (we suggest going straight to the terminal for a cheaper price). The length of your journey will vary depending on your border crossing. The bus will estimate a time of 4-7 hours.
We were super unfortunate and had some passengers delay our journey to 9 hours. But well worth it in the end! When you are preparing to take the bus, remember it is an official border crossing, so you will need your passport handy, and have no fresh fruit or vegetables. Do, however, take some packaged food and drinks for the road.
WHERE TO STAY
First things first, you need a bed, right? We stayed in a cozy little hostel but nothing to really rave about.
We did meet some lovely Italian girls later on during our trip who spoke very highly of their hostel in Bariloche at Patagonia Jazz Hostel. From all reports, it is by far one of the best hostels in the city. They are an animal rights conscious hostel, and go to a lot of effort to maintain that image.
Jazz provides its guests with a free breakfast consisting of homemade bread, homemade jams and peanut butter, fresh juices and more. It's a perfect way to start off your morning. Not only that, for a minuscule cost, a vegan dinner will also be cooked in the communal kitchen by staff and owners. Builds a comfortable and homey vibe so naturally draws a fun vibrant crowd!
WHAT TO DO
You should allow 4-5 days to stay here. If you're here in winter and love to ski or board, it would be worth your time to stay a bit longer and hit many of the mountains and backcountry ski areas.
If not, we suggest making some new friends and hiring a car for a few days to explore the local landscapes and surrounding towns.
EL BOLSON
First of all, if you drive about an hour south, you'll find the sleepy village of El Bolson. Cruise down, have a picnic at the viewpoint and relax. It boasts incredible views over Lake Rio Azul, and a neat little waterfall, Cascada Escondida.
There are a few different hiking trails in the area you can look into too. We were coming off the back of a night out, and our adventurous spirits stopped when we discussed hiking.
We recommend you spend a day on the other side of the lake too.
VILLA LA ANGOSTURA
Take the drive to the other side, and one of the first towns you will come across is Villa la Angostura. It's small, so you can miss it with the blink of an eye! It has one main street filled with many ice cream shops.
For less than $2AUD you can buy ¼ of a tub of delicious homemade ice cream (the best decision you will make!). There's a small pier down by the lake that offers boat rides around so you can witness the beautiful, panoramic views of the town and the surrounding mountains from the water.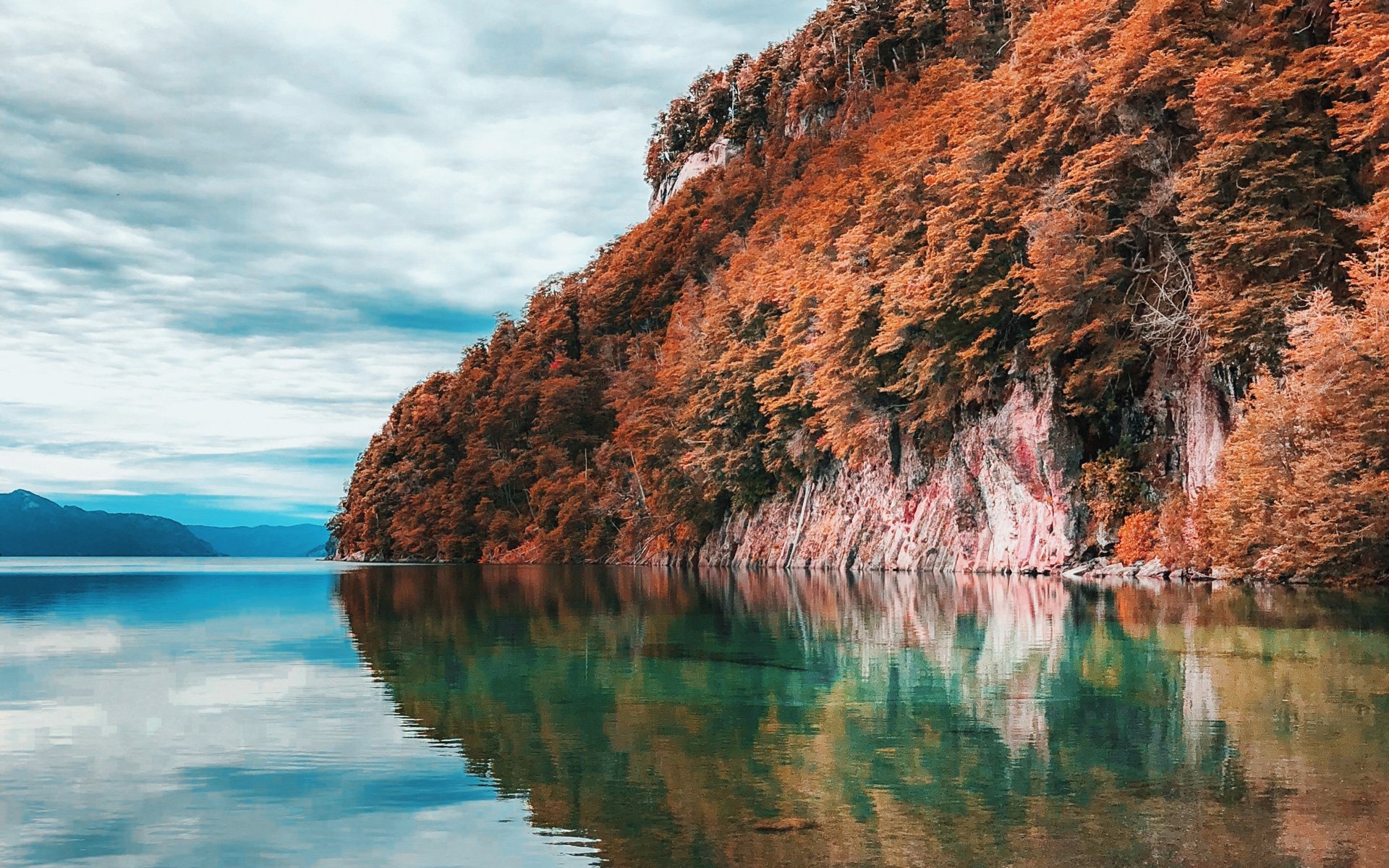 SAN MARTIN DE LOS ANDES
Next up, an hour or so north you will find San Martin de Los Andes. The town itself has a small beach between the mountains and almost looks like it is surrounded by fjords on either side. The drive to San Martin was by far the highlight. It offers many places to stop, enjoy the views over the small cliffs and take photos. The road winds through the mountains and is truly spectacular!
Pro tip: Try and do this between Thursday and Saturday. Otherwise, you may find the town having a few day long siesta!
Now that we have covered some must-do's in the surrounding areas let's have a look at what Bariloche has to offer!
BARILOCHE
There are cool tours dotted around the city to take part in, but the two that we recommend both the free walking tour and the walking food tour.
The walking tour will show you all the city highlights, the church, pier and tons more. The food tour was only just starting up when we arrived, so it was a new experience for us all. The operator of the tour was absolutely fantastic. Taking you to many locally owned restaurants where you will be able to try many different local specialties. A must do for everyone!
OTHER SPECIAL MENTIONS
When you arrive in Bariloche, you will see that most of the bars, pubs and even restaurants will establish themselves as a Cervesa, or a Cerveceria. So what is the difference? A cervesa simply means they serve beer. Cerveceria means they serve craft beer, from this particular restaurant! So for all the beer lovers out there, you can try a different craft beer in nearly any pub, bar or restaurant. With over 100 different cervecerias in Bariloche alone, it's the perfect spot to get your first 'taste' of the huge Argentinian beer culture.
The variety of food is outstanding too! For the vegos & vegans out there Ren vegitariano and Vegitariano are amazing. For everyone else, look out for Asadas, and any BBQ restaurants. For the seafood fanatics, best trout you'll ever taste.
Related: Global Destination Reviews: Top Places to Visit in Argentina
For tons of photographic evidence of our adventure, follow us on the gram: "rysys_world_tour" & "ethanharwood80".
Follow our next chapter as we take a quick detour to Uruguay here! 
Discover the mystery of Argentina and dance the tango along the way on our epic Community Buenos Aires Volunteer Trip! Click that button below!