The "How-to-pack-your-life-in-a-suitcase" Guide
Woohoo! You're all booked and ready for your big adventure abroad. As time draws closer to takeoff, that one dark cloud of stress continues to loom over, doesn't it? It's that dreaded travel checklist.

Probably something you'll leave to the last minute and forever regret. Especially when your phone's already dead at the airport and your treasured charger is waiting at home. 
We're here to lighten the mood (and your suitcase)! Whether you're a seasoned traveller or a first time rookie, this bad boy here is going to set you up for life.
CLOTHES
You need to think strategy! Pack lightweight pieces that mix and match and can transition from day to night wear. Yes, it all depends on the country, the season and the culture you're off to as well.
☀️ ☀️ ☀️
Lightweight shirts and tanks - that you won't care about wearing on repeat.
Sweater or fleece jacket - yes, even if you're headed to the tropics!
Rain jacket or windbreaker
Shorts (varying in length) -  avoid denim in humid countries (& they take yonks to dry)
Long skirts or dresses - they breathe better than pants and they're conservative
Pairs of light cotton pants or leggings
Underwear -

try bringing 2 weeks worth before you need to hit the laundromat

Pairs of thin socks
Comfy walking shoes
Dress shoes
Light sandals
Flip-flops (aka thongs)
PJs
Swimmers & rash vest
A few different hats, scarves and accessories - so you can switch up your look a little
Nice interview get up - chances are you're going to have at least one and you need to look employable!
❄️ ❄️ ❄️
Long sleeved shirts - it's all about layers
Thermal wear - shirts, pants and underwear
Sweaters or sweater dresses
Pairs of thick pants - jeans and cargos
Pairs of leggings - also for layering up
Underwear -

try bringing 2 weeks worth before you need to hit the laundromat

Pairs of thick socks
Heavy coat
Gloves
Rain jacket or windbreaker
Warm PJs
Boots or closed-toed shoes
Hiking shoes
Flip-flops / Thongs - mostly for protection from those

nasty

hostel shower germs!

A few different hats, beanies and scarves - so you can switch up your look a little
Dress shoes for interviews and work
One nice interview outfit - blazer, trousers & shirt so you look dashing
WHAT
NOT
TO BRING
Your whole closet - less is more! With scarves and other great accessories packed, there's no such thing as outfit repeating.

Heaps of shoes - they're a big space hog. Good comfy walking shoes, sandals and a nice pair for formal occasions is all you need.
TOILETRIES 🛁
You just need the basics, you can buy the rest when you get there. You don't want to risk your fav products exploding all over your clothes. Try and find as many mini's or 2-in-1s as you possibly can and you're already winning at this travel thing. You'll need:
Toothbrush, toothpaste, and floss

Shampoo & conditioner

Body wash & lotion

Wet wipes

Lip balm

Dry shampoo

Perfume & deodorant

Nail clippers & tweezers

Mini sewing kit

Razor

Cotton buds

Hair brush, hair ties and bobby pins

Sunscreen
Save yourself the trouble and cash by bringing along a travel sized first aid kit with:
Throat lozenges

Motion sickness pills/bands

Eye drops

Insect repellent

Paracetamol and Nurofen

Vitamin C tablets

Cold & flu tablets

Antiseptic cream

Band-Aids

Any prescription medication with the label/script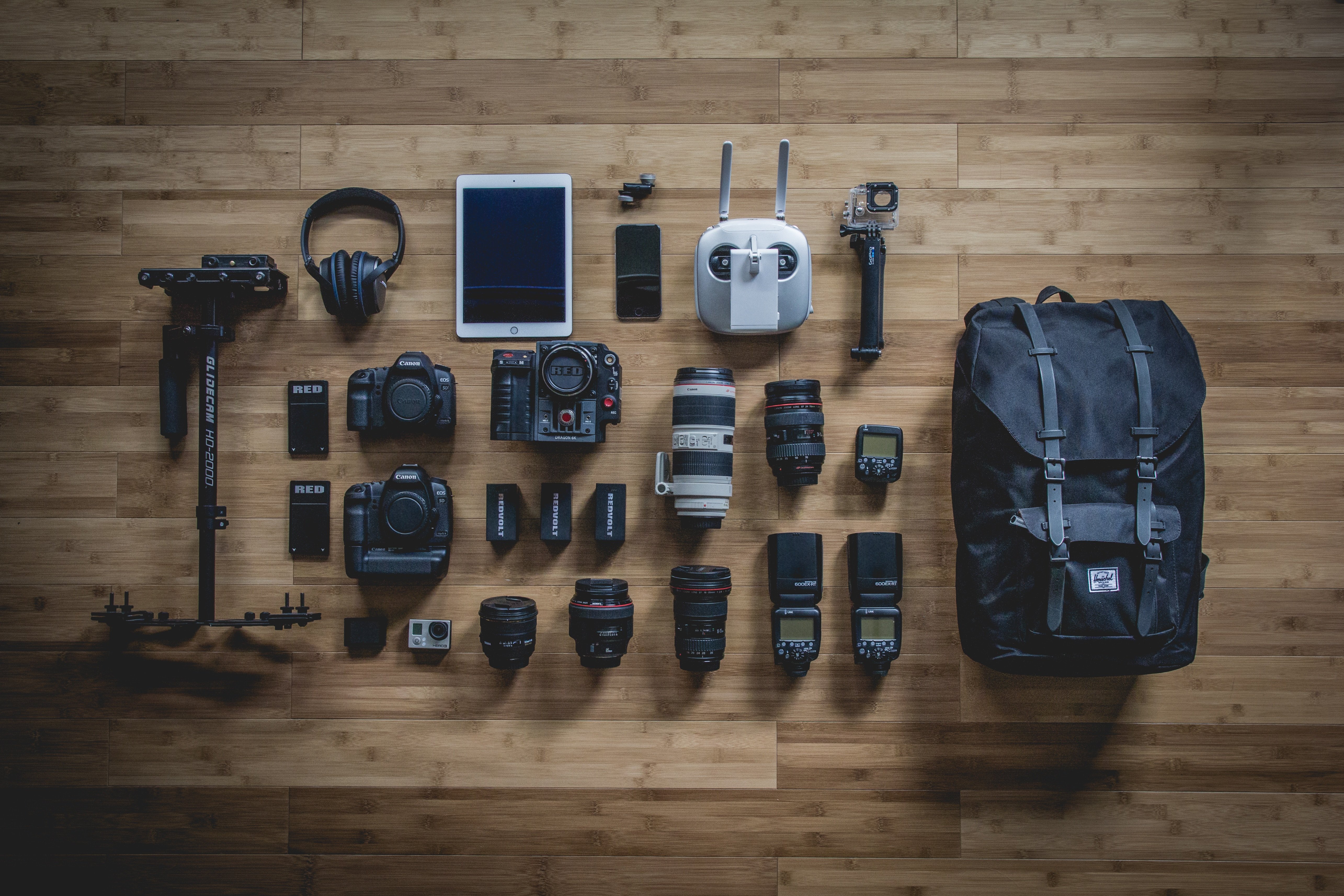 ("The camera adds ten pounds" said the check-in agent weighing the bag 😉 ) 

TECH 📷
Behind every amazing travel pic is the right equipment, but do try to bring the bare minimum. This is where weight and suitcase space can get lost amongst an armload of tangled cords and power accessories, so only bring:
A waterproof smartphone case

GoPro/camera/chargers

International adapter

Universal charger

Laptop, iPad, or e-reader

External battery pack
ANY OTHER BITS & PIECES 🎒
Backpack - splash out on a decent one if you can, it will cop lots of wear & tear

Money belt - great for piece of mind when lugging around money and passports

Lightweight travel towel

Extra batteries

Packing cubes - a great way to organise your clothes and compress what you need

Headlamp/torch
IN-FLIGHT ESSENTIALS ✈️
Fill up your carry-on with all the fun stuff to keep the good times rollin' while you're in the air:
Phone & charger - because what would life even be without it?

Documents: (because triple checking never hurt anyone)
Passport

Travel insurance details

Visa

Return flight details

Driver's license

Bank card/credit card
Travel pillow, blanket, eye mask and ear plugs.

Gum or mints.

E-reader or iPad.
Use the leftover room for chargers, cords and headphones.
The best of the best travel apps you should totally get sorted before you head: Travel Apps We Can't Live Without 
TIPS & TRICKS FOR SUCCESS
Put your clothes on a diet - lay out all the ones you intend to take with you and half it.
Only bring neutral coloured clothes that will mix and match. Your red leather hot pants and zebra print can stay at home.
Make copies of all your important documents. Keep them separate from the originals.
Rolling your clothes tends to be way more space efficient. Roll, burrito or cube everything you can!
Pack a range of plastic bags. You never know when a trusty ziplock can save your suitcase from laundry stank or toiletry spills.
If you have bulky jackets or shoes, try wearing them on the plane (as long as they're comfy!) to save that precious weight allowance.
Check the local weather - Australia isn't always hot, Canada isn't always covered in snow. Plan accordingly.
Hopefully by now your packing is on point for the ultimate trip abroad! For those with a serious case of Pack Anxiety (it's not an actual condition, but it should be) holding them back from their travel dreams, fear no more.
Click that little red button to find out where you could go with this huge burden off your shoulders…